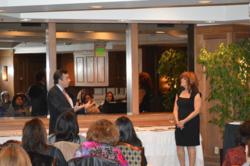 "Dr. K brings skill, class and ethics along with his Board Certification of Plastic Surgery to Ventura county. We are very excited to have him at Celebrating Women Center" - Dr. Adrienne E. Lara
Oxnard, CA (PRWEB) May 14, 2013
Celebrating Women Center, Oxnard's highest rated Ob/Gyn per DoctorBase.com has added a reputable plastic surgeon to its ever growing robust menu of options. Enlisting the help of Dr. Ryan Khosravi, the Center now offers a full palette of cosmetic and reconstructive surgery procedures along with the backing of Board Certification.
Dr."K" as he is known as in Beverly Hills will be seeing consults and patients on select Saturdays of the month starting in May. In February of 2013 he joined Dr. Adrienne Lara at the Topa Tower Room for a seminar on Liposuction and Tummy Tucks. He will merge his expertise of breast augmentation, face-lifts and body contouring with Celebrating Women Center's services, which already include liposuction, chemical peels and Botox.
Back in September, the Center started offering Liposuction along with its premier Ob/Gyn services. Dr. Adrienne Lara and her team began an extensive search to bring a Board Certified Plastic Surgeon to Oxnard. After review the doctor and her team invited Dr. Khosravi.
On May 16th at 7:00 pm Celebrating Women Center will be holding a Meet & Greet open house with Dr. Khosravi.
To learn more about Celebrating Women Center, Dr. Ryan Khosravi and their open house please visit oxnardobgyn.com or call 805-988-7577.