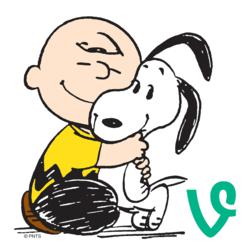 "We are excited to be working with Khoa," said Cory Cole, Social Media Director for Peanuts. "His work pushes the boundaries of technology in incredibly creative ways.
New York, NY (PRWEB) May 13, 2013
Peanuts Worldwide today announced that it has signed a deal with Khoa Phan, the celebrated stop-motion animator whose whimsical and ingenious videos using Vine, Twitter's video-based social media app, have attracted thousands of followers—and the attention of the Tribeca Film Festival. Two of Phan's vines were nominated in the "Animate" category of the film festival's new #6secfilms online competition.
In the deal with Peanuts Worldwide, Phan agrees to develop 12 original videos with the Vine app based on the 12 themes of the Peanuts brand, including the kite-eating tree, Schroeder's music, Linus's blanket, Lucy's psychiatry booth, Snoopy's dog house, Snoopy himself, the Red Baron, Woodstock, baseball games, football games, the Great Pumpkin, and the Little Red-Haired Girl.
"We are excited to be working with Khoa," said Cory Cole, Social Media Director for Peanuts. "His work pushes the boundaries of technology in incredibly creative ways, while always maintaining a lively, good-humored spirit—a combination that is perfect for Snoopy in the 21st century. We can't wait to see what he dreams up for our beloved characters."
"I'm excited beyond words to be working with one of my favorite brands in the world," added Khoa. "Peanuts was always so joyful to watch and read (I still read the Sunday comics). My childhood wouldn't be complete without my dose from the Charlie Brown gang! I'm thrilled to get the opportunity to join in this adventure, to create something for Snoopy on this new evolving platform."
Twenty-three year-old Khoa Phan, an amateur artist, began using the Vine app the day after Twitter released it in January of this year. It only took two tries to launch him into the spotlight.
Featuring what was to become his signature message, Phan's first "Editor's Choice" vine used stop-motion animation to send construction paper "bubbles" floating across a tabletop; as the bubbles pop, they spell out "Have a good day!" To date, Phan has created more than 100 vines and has attracted more than 24,000 Vine followers. Two of his vines—"Rawr means 'I love you' in dinosaur" and "Some light trouble"—were shortlisted in the Animate category of the Tribeca Film Festival's #6SecFilm competition (making him the only creator to have more than one film in the finals).
Phan has recently been profiled on CNN's "The Lead" and was heralded as "Vine's Most Creative Stop-Motion Animator" by Mashable.
# # #
The PEANUTS characters and related intellectual property are owned by Peanuts Worldwide LLC, a joint venture owned 80% by Iconix Brand Group, Inc. and 20% by members of the Charles M. Schulz family. Iconix Brand Group, Inc. owns, licenses and markets a growing portfolio of consumer brands including: CANDIE'S (R), BONGO (R), BADGLEY MISCHKA (R), JOE BOXER (R), RAMPAGE (R), MUDD (R), MOSSIMO (R), LONDON FOG (R), OCEAN PACIFIC (R), DANSKIN (R), ROCAWEAR (R), CANNON (R), ROYAL VELVET (R), FIELDCREST (R), CHARISMA (R), STARTER (R), WAVERLY (R), ZOO YORK (R), ED HARDY (R), SHARPER IMAGE (R), UMBRO (R) and LEE COOPER (R). In addition, Iconix owns interests in the ARTFUL DODGER (R), ECKO (R), MARC ECKO (R), MATERIAL GIRL (R), PEANUTS (R), TRUTH OR DARE (R), BILLIONAIRE BOYS CLUB (R), ICE CREAM (R), MODERN AMUSEMENT (R), and BUFFALO (R) brands. The Company licenses its brands to a network of leading retailers and manufacturers that touch every major segment of retail distribution from the luxury market to the mass market in both the U.S. and worldwide. Through its in-house business development, merchandising, advertising and public relations departments Iconix manages its brands to drive greater consumer awareness and equity.