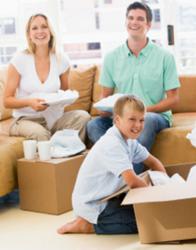 International Shipping - Moving Quotes by International Movers
(PRWEB) May 14, 2013
Moving 411 has created a database of professional international movers from across the United States. People can request free quotes from the leading moving service providers within minutes. Pre-screened companies that can fulfill their requirements will send them competitive quotes directly. This is a free, no-obligation offer.
The credentials and reputation of the moving companies are checked carefully before they included in the database. Their performance is reviewed regularly to ensure that they are providing outstanding service. People need to go through online reviews to check the reputation of the companies. It can be risky to pick the company that offers the lowest bid without checking its track record.
Overseas moving is much more complicated than moving within the country. That's why it is essential to search for experienced international moving companies that have the necessary knowhow and contacts. People need to shop around to get good service at affordable prices. A professional company will pack and move the customer's possessions with care.
Those who are planning to move overseas need to research their options thoroughly. They need to find out about their career prospects, the local language, customs, culture, food habits, security, regulations, etc. They also need to look for accommodation and a suitable school for the kids. A visit to the country can help them to get a clear picture of the preparations they need to make.
Find experienced international moving companies quickly: A professional mover will take good care of the customer's possessions and ensure that the shipment will clear customs without a hitch. A reliable mover will have fair and transparent terms and conditions, so the customer will not have to worry about hidden costs. The customer will have peace of mind.
Look for professional international car shipping companies: Moving411 helps people to find reliable car movers who offer the type of services they need. People can request quotes for shipping cars, motorcycles, boats, etc. by sea or air. Experienced service providers will take good care of the vehicle and deliver it on time.
Compare international moving quotes easily: People can get much better deals by shopping around for the best offers. They need to browse through online reviews of moving companies before they decide. Moving411 makes it easy to compare quotes from the top service providers. The companies will offer their best rates because they will be competing for the customer's order.
How to minimize international moving costs: People can avoid transporting items that are available at the destination. Heavy items can be moved by sea to save on costly air freight charges. Essential, lightweight items that will be needed immediately at the destination can be sent by air. People can carry important and valuable items when they travel to the destination.
About Moving411.com
The company offers an online service that helps people to get the best moving deals. Moving 411 has been working tirelessly since 2001 to educate people about how they can make stress-free moves. Practical advice is provided on its website that helps people to make the right choices.