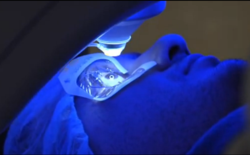 Today we have the advantage of very modern, advanced technology. Our lasers pulse 500,000 times per second and are 10 times more accurate than prior lasers.
(PRWEB) May 14, 2013
In View, the educational TV series hosted by broadcast icon Larry King, interviewed Jonathan Christenbury, MD of the Christenbury Eye Center in North Carolina for its upcoming episode on the Discovery Channel on May 15, 2013, at 7am EST and PST. The episode includes a 5-minute segment about laser eye surgery at Christenbury Eye Center with the doctor and his staff. Dr. Christenbury's segment includes an overview of several common and leading edge vision correction procedures, including LASIK®, Visian ICL®, Laser ReSTOR® and Catalys® Laser Cataract surgery.
This segment of the show demonstrates the latest advances in technology and procedures for vision-saving and correcting procedures. For example, Dr. Christenbury's latest laser, the Catalys Laser by OptiMedica®, provides a safer, more accurate and faster process for removing cataracts and allows for simultaneous astigmatism correction. The procedure is so far advanced that patients are now being treated right in the office and often the same day as their consultation.
"Today we have the advantage of very modern, advanced technology. Our lasers pulse 500,000 times per second and are 10 times more accurate than prior lasers," says Dr. Jonathan Christenbury, Director of the Christenbury Eye Center. "We're honored to demonstrate our advanced technologies for Discovery Channel viewers."
Christenbury Eye Center now exclusively offers in-office Laser Cataract Surgery using the Catalys laser as well as Laser ReSTOR, LASIK and Visian ICL surgeries. For more information about Dr. Jonathan Christenbury and the Christenbury Eye Center, please visit the Christenbury Eye Center website or call us at (877) 702-2020.
About Christenbury Eye Center
Dr. Jonathan Christenbury established Christenbury Eye Center in 1987 and is known for his groundbreaking work in vision care. For more than a decade he has consistently been one of the first surgeons in the Carolinas to perform many pioneering vision care procedures including LASIK, Visian ICL Laser Cataract and ReSTOR.
Dr. Christenbury performed the first LASIK procedure in the Carolinas in the early 1990s and since that time has performed more than 75,000 laser vision correction procedures. He also performed the first IntraLASIK procedure on the East Coast in 2002 and the first WaveFront Customized IntraLASIK in the Carolinas in 2005. In the spring of 2005, the doctor was the first Carolinas eye surgeon to perform the ReSTOR® procedure, used both for the treatment of cataracts and for Presbyopia, eliminating reading glasses and bifocals. Today, Dr. Christenbury is the most experienced ReSTOR surgeon in the United States.
About Profiles Series Productions, LLC and In View
Hosted by the internationally regarded broadcast icon, Larry King, In View is an independently produced television program that airs on various broadcast networks. The series explores global issues, uncovering their challenges and highlights opportunities for positive solutions. In View, hosted by Larry King explores a wide array of relevant topics, such as the challenges the health and medical field faces and the advancements assisting to overcome these limitations in the 21st century. For more information, visit the show's official website at http://www.inviewseries.com for more information.