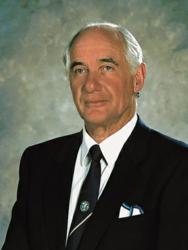 Syracuse, NY (PRWEB) May 14, 2013
It is with great sadness The McKenzie Institute announces the passing of founder Robin Anthony McKenzie May 13, 2013. The world-renowned physiotherapist died surrounded by his beloved family following a courageous battle with cancer. He was 82.
McKenzie was born in Auckland, New Zealand, in 1931. He started a private practice in 1953 in Wellington, where he developed a special interest in treating spinal disorders.
McKenzie changed the way patients worldwide treat back and extremity issues. The McKenzie Method® of Mechanical Diagnosis and Therapy® (MDT) developed by McKenzie in the 1950s has become a standard in the field.
McKenzie devoted his professional life to the study of musculo-skeletal disorders and their treatment. His theories are now supported by scientific evidence.
He created The McKenzie Institute International in 1982 and led its growth into a worldwide educational organization that continues to be strong today with 28 branches worldwide.
Aside from his professional life, McKenzie had several personal passions. First and foremost was his family, whom he described as the "truly strong spine of his life." They supported him through the struggles of his early professional career, celebrated the accolades he received for his achievements and supported him in the difficult times of his illness.
For more information on McKenzie's legacy and the McKenzie Method, visit http://www.mckenziemdt.org.