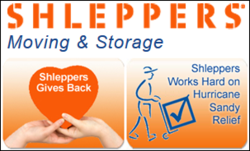 "All of us at the American Friends Rabin Medical Center want to extend our deepest gratitude to the Shleppers team continuing its annual support of the NYC Schlep," comments Dr. Joshua Plaut, organizer of the NYC Schlep
New York, NY (PRWEB) May 15, 2013
Top New York moving company Shleppers Moving & Storage is proud to announce its upcoming donation of time, trucks and support to the third annual NYC Schlep: Jewish Breast Cancer 5k Run/Walk to raise money for the American Friends Rabin Medical Center.
This event will take place on Sunday, June 9th at 9:00 a.m. in Robert F. Wagner Jr. Park, NYC. "It was the memory of my mother Hadassah, who had breast cancer twice," said Dr. Joshua Plaut when asked what prompted him to organize the NYC Schlep: Jewish Breast Cancer 5k Run/Walk.
"One in seven Jewish women will be diagnosed with breast cancer in their lifetime," said Plaut, who is the executive director of American Friends of Rabin Medical Center, the New York-based non-profit that organized this event. The race attracts runners of all ages and all parts of the country.
The Schlep will help to fund research performed in Israel at the Rabin Medical Center to investigate the prevalence of metastatic breast cancer disease in women who are genetically predisposed. Developing an understanding of how this disease arises will help doctors prevent its occurrence, allowing women to overcome a disease which today is essentially incurable. More broadly, breast cancer is one of the most common cancer diagnoses affecting Jewish women in the United States, Israel, and across the world. Research that can find a cure will help the nearly 1.5 million women, of every race and religion, who are diagnosed with breast cancer each year.
"All of us at the American Friends Rabin Medical Center want to extend our deepest gratitude to the Shleppers team continuing its annual support of the NYC Schlep" comments Dr. Joshua Plaut. "This is the third year for the event and we expect it to get bigger and better each year. The fact that Shleppers donates these services saves our organization thousands of dollars and makes it a lot easier. Many thanks to the entire Shleppers for helping our organization in its mission to cure metastatic breast cancer. Their donation of services truly helps us come closer to achieving this mission."
"We are privileged and delighted to take part in supporting the NYC Schlep for American Friends Rabin Medical Center," comments Shleppers President, Jason Friedland. "They not only have a great name for their walk, but also have an important mission to find a cure for breast cancer -- it's a truly worthy cause."
About Shleppers Moving & Storage
Founded in 1978, Shleppers Moving & Storage began moving with one van and one vision--to serve its customers with commitment and integrity. By working in partnership with customers, New York's top movers have earned a reputation as the city's number one moving and storage company, offering a wide range of relocation services, including local, long-distance, and international moving, packing, unpacking, and private storage. With dedication, teamwork, and innovation, Shleppers is a NY moving company that puts customers first, creating a moving experience that's efficient and reliable from the first box to the last. Shleppers is also deeply committed to charity and community involvement, with its donation of trucks and logistical support for The March of Dimes, Memorial Sloan-Kettering, The Food Allergy & Anaphylaxis Network, The JCC Maccabi Games, The Catholic Charities of Brooklyn & Queens, UJA Federation, the Community Mayors Foundation, and others. For more information, quotes, supplies, or moving tips, please visit http://www.shleppers.com/.
Information about American Friends Rabin Medical Center
American Friends of Rabin Medical Center is committed to helping Rabin Medical Center realize its vision for a state-of-the-art full service medical center. Through a variety of programs and fundraisers across the United States, the funds raised by American Friends of Rabin Medical Center are earmarked to help Rabin Medical Center expand its facilities, purchase the most advanced medical equipment and technology, and participate in monumental developments in medical care and technology.
Information about Rabin Medical Center
Rabin Medical Center in Petah Tikvah, Israel is a modern center of medical excellence. It offers advanced medical services, a staff dedicated to patient care and the preserving of patient dignity, and a commitment to the development of a state-of-the-art medical center for the people of Israel. Today, it is one of the largest and premier hospital facilities in Israel, servicing approximately one million patients annually from within Israel and from neighboring countries, without regard to nationality or religion. Indeed, Rabin Medical Center is becoming the Mediterranean's preeminent center for health care and medical research.