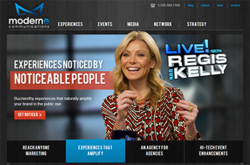 Even the most conservative industries are becoming "agitators of the commonplace" by getting in on the thrill of Experiential Marketing
New York, NY (PRWEB) May 16, 2013
New York Experiential Marketing Agency, Moderne Communications Inc., launches a website devoted to experiential marketing education and matchmaking between brands and message-sending media.
In a fiercely competitive ad-mosphere, even the most conservative industries are becoming "agitators of the commonplace" by getting in on the thrill of reaching their consumers through non-traditional, unexpected and maybe even a tad "disruptive" means, otherwise known as Experiential Marketing. For the less lingo-inclined, "Experiential Marketing" can be a confusingly vague term that needs captivating visuals and detailed explanations to be fully understood – and BOOM! Here is where a new nifty website kicks in.
Digitally flipping through the new webpages from Moderne Communications, a New York-based experiential marketing agency, will wrap one like a warm blanket as they're nurtured into the world of all things Experiential Marketing. As they read up on various areas of Experiences, Events, Media, and Strategy, maybe they'll envision the future medium and messaging for their brand (or maybe they will call on Moderne to do it for them).
On the other hand, if the instructional website leaves too much to the imagination and they'd like to see more of "what's under the hood," one can always take a look at Moderne's general capabilities proposal to learn more about these geniuses of experiential marketing.
How Did The New Website Come To Be?
Moderne's Online Marketing Manager, Jenn Maffeo comments, "Each explanation of our services was written to be as straightforward as possible and to be sure that the educational content on the website will be easily found by colleagues and potential clients searching for experiential marketing solutions online." Fueled by excitement and energy drinks, the employees at Moderne Communications have been feverishly scouring through supportive documents and photos of their events, staffing, technological resources and creative collateral to procure what they hope will put an end to the vagueness and confusion once and for all.
Designed with potential visitors in mind, new webpages and downloadable marketing whitepapers have been added to increase value for visitors looking for a specific experiential marketing or non-traditional media solutions and each page has been carefully rewritten to make the benefits of experiential marketing clear and easy to understand. President, Joe Mastrocovi comments, "It has been exciting trying to find a middle ground between providing language where details are evident to the industry specialist, yet rudimentary enough that someone newly introduced to Experiential Marketing."
Interactive Work Page:
With a filter system in place, Moderne's case studies can be selected based on three parameters: Client / Brand, Service Category or by clicking on a photo directly. The visitor will then be taken to a fully detailed article summarizing the services Moderne provided for that client, what was achieved throughout the program and the means by which Moderne accomplished the experiential marketing goals of the client. Leigh Rowan, COO, comments, "This section provided a way to show transparency and authenticity to prospective clients. It says Moderne knows experiential marketing, they've done it successfully before and they can't wait to do the same for new clients."
Aside from a major website overhaul, the Moderne team has recently been involved in a few exciting campaigns including Merrell's "Down and Dirty" Tour, Beck's Sapphire National Launch in Beverly Hills, NYC, Chicago and Miami, photo activations throughout the recently activated Taylor Swift RED Tour sponsored by KEDS and Elizabeth Arden, a non-traditional media placement initiative for Gilead Pharmaceuticals and many others. How do they find time to fit it all in a day's work? The world may never know...
Additional Teaser:
They're not letting all of their secret surprises out of the bag just yet- subscribe to their blog and look for "Moderne Communications" on Twitter, Facebook and Linkedin and they'll keep everyone up to speed on the emerging trends that are about to explode all over the experiential blogosphere.
For more information on the agency, see ModerneCommunications.com or speak to Joe Mastrocovi (New York HQ) at 516-594-1100.
About Moderne Communications, Inc.:
"Non-Traditional Marketing is Their Tradition" - Moderne Communications, Inc. is the experiential marketing, non-traditional media and event solutions partner. They achieve their motto of "Reach Anyone Marketing" through effective Events, multicultural activations, unique interactive brand Experiences, and engaging non-traditional Media placements to get the right message to the right audience at the right place and time. As an agency, they forge together over 25 years of as a guerrilla activation powerhouse, with knowledgeable wiz-kids captivated by innovative of-the-moment interactive technologies and creative marketing strategies. They continuously invest in their team and seek out new digital and technological assets to constantly reinvent themselves in an effort to bring out the most innovative marketing options available. Moderne's client list includes Unilever, Gilead Pharmaceuticals, Procter & Gamble, CoverGirl, McDonald's, Hush Puppies, Keds, and many more. Moderne is headquartered in New York and maintains an office in San Francisco. For more information please see ModerneCommunications.com.
Source: Moderne Communications, Inc.