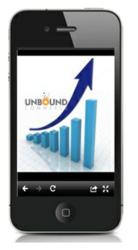 We saw same store, year to year average mobile orders jump more than $10, from $70.62 to $80.71
Boston, MA (PRWEB) May 14, 2013
Unbound Commerce announced today that a broad index of 200 retailers using its Mobile Presence platform to power their mobile commerce sites saw record increases in both traffic and sales volume metrics, in year over year same store comparisons for March/April 2013.
As consumer confidence in mobile has risen, so has mobile commerce revenue. Across a range of retailers using the Unbound Commerce platform, mobile commerce revenue jumped 71% in March and April, versus the same period in 2012.
Year over year unique visits and the aggregate number of page views rendered by these 200+ retail mobile commerce sites nearly doubled, up 90.88% and 90.99%, respectively.
"Mobile commerce is expanding very fast, as consumers grow increasingly comfortable shopping on their smartphones", said Wilson Kerr Unbound Commerce VP Business Development and Sales. "More importantly, mobile orders are increasing in both size and frequency. We saw same store, year to year average mobile orders jump more than $10, from $70.62 to $80.71."
Consumers are spending more on each mobile transaction. And this trend is accelerating.
By comparison, according to eMarketer, B2C ecommerce sales in the US are expected to slow to a growth rate of 12% in 2013—after growing 13.8% last year.
About Unbound Commerce
Unbound Commerce is the industry's #1 provider of mobile commerce solutions, for Retailers seeking to reach their customers anytime and anywhere. The Mobile Commerce Data Book from Internet Retailer shows Unbound Commerce as the #1 mobile commerce vendor, with an industry-leading number of mobile commerce site deployments. Unbound Commerce's unique, low IT hybrid approach means the integration work done for mobile commerce site can be leveraged to deliver a tablet commerce site, a social commerce store, and a commerce-enabled downloadable app. Unbound also delivers free marketing tools to help retailers and brands bridge online and offline consumer touch points, at point of sale. Unbound has built and deployed mobile sites for Rockport, Finish Line, Miller Coors, and over 300 other retailers. For additional information, please visit us http://www.UnboundCommerce.com.