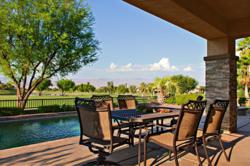 Canadian Home Buyers Coming To Palm Springs In Record Numbers
La Quinta, California (PRWEB) May 15, 2013
The Vancouver Sun reported that "the strong Canadian dollar and reduced housing prices are among factors that have driven real estate sales south of the border, and for Sheri Dettman And Associates, in the Palm Springs real estate market."
The Sun article goes on to say, "Canadians have been coming to the desert for decades. That said, the recent combination of drastically reduced home prices in the U.S., a strong Canadian dollar against the U.S. dollar, and low interest rate financing options has just about doubled the number of Canucks buying here over the last three to five years." Indeed, investing in real estate raises a whole new set of issues. It's one thing to cross border shop for cheap clothing or dairy products, and quite another to write up a serious offer on a vacation home or investment property. Realistically, before you start out, you must ask yourself: Am I going to live here or am I investing here as part of my personal wealth strategy?
Sheri was quoted as saying, "Canadians are generally a conservative lot. Canadians normally purchase for personal and family use. They are investing in a lifestyle for their family and friends, rather than just a home. Most of our Canadian buyers want to be able to enjoy good amenities and prefer newer developments with newer homes."
"Canadians seem to be enjoying golf, tennis, fitness and the social activities which are available in most Palm Springs area golf and country club communities," Sheri said. "This is about much more than real estate, it's about finding just the right community for each person's lifestyle and then negotiating the best price and terms possible."
About Sheri Dettman & Associates
Sheri Dettman & Associates is associated with Luxury Homes by Keller Williams International, the second largest residential realty company in North America and is the one of the top producing agents in the desert market. Additional information about Palm Springs area real estate can be found at Sheri's comprehensive real estate site: http://www.YourResortHome.com