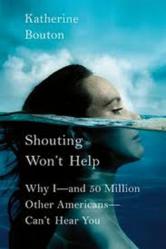 Los Angeles, CA (PRWEB) May 14, 2013
Studies show men are more likely to develop hearing loss than women; however, hearing experts believe a large part of this is due to dangerous noise levels on the job. While nearly 60 percent of Americans with hearing loss are men, more than 15 million women have hearing loss.
That's why in addition to celebrating Better Hearing Month, Healthy Hearing is recognizing National Women's Health Week, too.
National Women's Health Week is traditionally celebrated in conjunction with Mother's Day; serving as a reminder for women to put themselves first at least once a year and have a routine physical examination performed.
While hearing exams aren't typically a part of annual check-ups, they should be. Hearing health is important to several aspects of a person's well-being. Individuals with untreated hearing loss report having a decrease in overall quality of life, are more likely to suffer from depression and social isolation and are twice as likely to develop dementia.
In addition, the psychological effects of untreated hearing loss can include increased outbursts of anger, low self-confidence, frustration and embarrassment. Not to mention many adults describe feeling more fatigued than usual due to the straining and exhaustion of trying to hear.
This doesn't have to be the case, though. Healthy Hearing wants to encourage women to be pro-active in their hearing health.
One woman has recently published a book about her experience/struggle/etc. with hearing loss. Healthy Hearing interviewed former New York Times editor, Katherine Bouton, about her recently published book, Shouting Won't Help. An advocate of hearing and women's health, Bouton's book stresses the importance of taking an initiative when it comes to hearing loss.
In honor of National Women's Health Week and Better Hearing Month, Healthy Hearing is giving away copies of Shouting Won't Help. To enter simply visit Healthy Hearing's Facebook page and answer one of the questions we've provided about hearing loss. A winner will be chosen at random.
Healthy Hearing implores all women to take time for their health this week. Start by taking the pledge for hearing health on our site. Make hearing health a part of your routine check-up this year.
For more information about Healthy Hearing or the pledge for hearing health, visit http://www.healthyhearing.com/pledge.