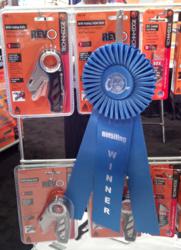 Considered one of the most innovative products out on the market today.
Kenilworth, NJ (PRWEB) May 22, 2013
IDL Techni Edge's new REVO Folding Utility Knife was one of only 36 products recognized by the NRHA during the Retailers' Choice Awards Ceremony at the National Hardware Show®, held at the Las Vegas Convention Center in Las Vegas. These products, which were specifically chosen by retailers as they scoured the show floor, are considered the most innovative products out on the market today.
"Home improvement retailers and consumers love new products, and the Retailers' Choice Awards program recognizes those selected by a panel of retailers they feel are unique, interesting and hold a great promise for sales in their stores," says Dan Tratensek, NRHA's vice president of publishing and publisher of Hardware Retailing magazine.
The REVO Folding Utility Knife is the newest addition to the Techni Edge line of utility knives. Its premium industrial design features two cutting positions for additional leverage and ergonomics. The signature finger loop provides added safety and control. There is 50% more blade edge exposure to allow for deeper cuts. Combine all these features with its quick-change blade replacement and convenient metal belt clip and the REVO will quickly become the one you reach for again and again.
IDL Techni Edge has been manufacturing knives and hand tools since 1979 and is proud to say our blades are made in the USA. We manufacture all types of hand tool blades including hobby, utility, single edge, flooring, and more. With more than forty years of experience designing and manufacturing custom, specialty, and OEM blades, IDL Techni Edge is the company to call for all your blade needs.
For more information on our award-winning knife and American-made blades, please contact IDL Techni Edge at 888-764-7487.