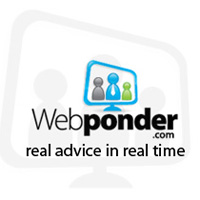 The video consultation is so clean and smooth that the parties usually forget that they are meeting through a video chat after a few minutes.
Miami, Florida (PRWEB) May 14, 2013
Consult a doctor online and ask for an online diagnosis from a medical professional or mdonline at Webponder.com, a live video consultation website. Webponder connects people in need of advice and answers with experts and professionals through live, face to face, video chat consultations.
Visitors to Webponder.com can not only connect with a medical professional, such as a nurse, doctor, or mental health professional, but also with hundreds of other credible professionals and experts such as attorneys, veterinarians, financial experts, and technology experts. Once the visitor chooses the expert they would like to speak with, they log in to their Webponder.com account and meet with their chosen professional through live video, and ask a doctor, or get free legal advice online, or ask anything they need to.
Webponder Managing Director Steve Thompson says, "The video consultation experience is as close to an in person meeting as you can get without sitting directly in front of the professional. The video consultation is usually so clean and smooth that the parties frequently forget that they are meeting through a video chat after a few minutes."
During the video consultation, the parties are free to discuss any matter they wish, and are encouraged to exchange contact information and either continue with the relationship through further video consultation on Webponder.com, or to continue as they normally would.
For medical professionals, the video consultation is not meant to substitute an in person appointment, however in many cases, individuals may just be seeking general medical information, assistance with common medical dilemmas, or may actually be able to get an online diagnosis. Many times, just connecting with a doctor, especially while being able to see them face to face, is simply a more convenient and practical alternative than taking a half a day off from work to ask a quick question.
Webponder.com's medical directory was recently deployed, so the website is looking for credible medical professionals to join Webponder and offer advice as needed. The experts choose the video consultation rate that they are willing to consult at, and can offer free video consultations as well.
Media inquiries for Webponder.com can be directed to co-founder and Managing Director Steve Thompson at (305) 373-7775.