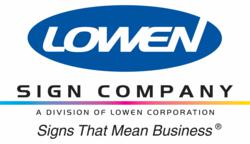 Hutchinson, Kansas (PRWEB) May 15, 2013
Lowen Sign Company, industry leader in outdoor signage for more than 60 years, has added to its growing product line MUTCD Compliant traffic signs. Along with the benefit of fast delivery and premium grade materials, Lowen Sign Company will offer competitive pricing to traffic sign purchasers.
A complete line of MUTCD compliant traffic signs and a variety of reflective sheeting from engineer grade to premium grade is offered through easy online ordering and traffic sign bids. Online, customers can search for products based on MUTCD category and tailor products based on need. For larger, more complex projects, individuals are welcome to submit bids either online, over the phone or via fax.
To allow for an easy transition into traffic signs, Lowen Corporation expanded its manufacturing facility to another 20,000 square feet bringing manufacturing space to more than 300,000 square-feet. All of Lowen Sign Company's manufacturing and production takes place in Hutchinson, Kansas, allowing for the company to offer lower prices and higher quality control.
In addition to traffic signs, Lowen Sign Company is a veteran in a wide variety of other products including its large relationship with major real estate franchises as an approved sign supplier.
To view the complete MUTCD compliant traffic sign product line from Lowen Sign Company, visit our website at http://www.lowensign.com/trafficsigns or call 877-383-8814 to speak to a representative. For inquiries about bidding or Lowen Sign Company's transition into the traffic sign market please contact Darin Fyffe at 620-665-2865.