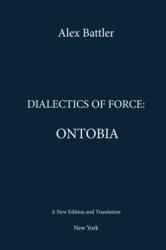 Knowledge of force equals force of knowledge.
(PRWEB) May 15, 2013
Representing a new scientific approach to force, a concept which spans across philosophy, cosmology, biology, and psychology, Dr. Alex Battler's book "Dialectics of Force: Ontobia" has just been released in a new edition and translation from CreateSpace. Through the theoretically sophisticated paradigms discussed in this book, Battler provides a fundamentally different idea of force as compared to his intellectual predecessors. In his book, force is based on its ontological phenomenon as an integral attribute of matter along with space and time.
"The characteristic of Force as ontological category appears in the assertion that while space and time indicate the direction of matter's motion, force defines the form and states of matter through motion in the multiform structure of the universe. These states of matter are uncovered through diverse forces that reveal themselves in the laws of force," Battler says.
In order for the reader to further understand the complexities of force in his book, Battler provides historical context of prominent and modern philosophers, astrophysicists, biologists, evolutionists, and psychologists to provide the reader with a deeper understanding of the intricacies of the subject. With polemical dialogues of critical thinkers who may or may not have been canonical figures of their times, Battler shows force's presence in all of being—matter, energy, physical vacuum, and consciousness itself. Furthermore, he shows how force is not a tangible empirical presence, but is presented in many different guises throughout the universe.
"Force, motion, matter (energy, vacuum), space and time have no separate existence—they are the Unity, and force reveals itself in the above-mentioned presence through different laws," says Batler.
Staying out of any scientific idols, their paradigms, methods, ideologies, and abstaining from the middle ground in social studies, Dr. Battler formulates:
— a definition of force as an ontological category;
— the manifestation of force in the inorganic world within the framework of the idea of the Big Bang;
— a definition of force in the organic world, viz., the boundary between life and nonlife;
— a solution to the mind–body problem, viz., what consciousness and thought are.
About the Author:
Battler conducts his researches on an independent basis and follows the methodology of dialectic and historical materialism. The new definition of force has allowed him to develop a new idea of the concept of progress in the monograph,Society: Progress and Force (Criteria and First Principles), being a sequel to Dialectics of Force: Ontobia.
For more information about Dr. Alex Battler, visit his official website at http://www.alexbattler.com
For more information regarding the book, contact Alex Battler by telephone at 646-480-0483, or by e-mail at info(at)abookpress(dot)com
"Dialectics of Force: Ontobia" is available for purchase here: http://www.amazon.com/Dialectics-Force-Ontobia-Alex-Battler/dp/1484008855/ref=sr_1_1?s=books&ie=UTF8&qid=1368300831&sr=1-1&keywords=Alex+Battler