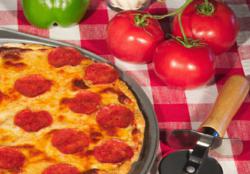 Today's busy families are pressed for time, but time is an even bigger issue for gluten-free families who must prepare much of their own food at home for safety reasons," says Carol Fenster, a pioneer in gluten-free cooking
Denver, CO (PRWEB) May 15, 2013
In honor of May as National Celiac Awareness Month, Carol Fenster's newly revised weekly gluten-free online cookbook―GfreeCuisine.com―offers additional benefits for home cooks, including a new and improved customized grocery list that simplifies gluten-free cooking.
"Today's busy families are pressed for time, but time is an even bigger issue for gluten-free families who must prepare much of their own food at home for safety reasons," says Carol Fenster, a pioneer in gluten-free cooking and author of 100 Best Gluten-Free Recipes. Fenster partnered with RelishRelish.com to offer a computer-based service that helps gluten-free families decide dinner menus for the coming week and then receive customized grocery lists. This service is especially attractive to computer-savvy families who like to shop with these lists which can be printed out or emailed to a mobile phone—one of the sites most attractive, time-saving features.
GfreeCuisine.com, launched nearly five years ago, was designed to address the roughly 21 million people on the spectrum of gluten-intolerance recently described by Dr. Alessio Fasano of the University of Maryland, Center for Celiac Research. At one end are those who can eat gluten (a protein in wheat and related grains) with no consequences. At the other end lies the 1 percent (about 3 million) with the autoimmune condition known as celiac disease in which gluten damages the lining of the small intestine and inhibits absorption of nutrients from food. In the middle of the spectrum are the 6 percent (18 million) who are non- celiac gluten-sensitive. They are sickened by gluten, though not always as severely or in the same way as those with celiac disease. There is no vaccine, surgery, or medication to treat gluten-intolerance; the only treatment is to remove all gluten from the diet so knowing how to prepare one's own food is very important.
GfreeCuisine helps gluten-free families decide what to prepare for dinner during the coming week. Each Thursday, 15 new menus (with side-dishes) are available to subscribers, who pay $21 for 3 months (averaging $7 per month). They choose 5 of the menus and print out a customized grocery list, based on those choices, that is organized by sections of the grocery store to make shopping much more efficient. Shopping with a list also saves money, notes Fenster, by guiding shoppers to buy only what is needed for the coming week.
All dishes are gluten-free and dairy-free and several are kid-friendly and vegetarian, as well. Subscribers also receive recipes for a wide array of desserts and breads —two foods that gluten-free families miss the most.
"There are several advantages to preparing one's own food at home, particularly to gluten-intolerant families who worry about safety, nutrition, and cost," says Fenster. First, food preparation at home assures complete control over the ingredients that go into the food, such as choosing gluten-free versions of soy sauce and chicken broth.
Second, cooks who prepare food at home have complete control over the standards under which food is prepared―including cleanliness and safety. Of particular concern to gluten-intolerant families is preventing their gluten-free food from touching gluten-laden food―such as not using the same knife to spread peanut butter or sharing a toaster.
Third, food prepared at home is also cheaper than take-out food or restaurant dining and usually has fewer calories and less sodium and fat. Each recipe offers nutrient content so families know what's in their food.
"Subscribing to GfreeCuisine is like getting a mini-e-cookbook delivered each week for pennies per recipe," says Fenster, "and the customized shopping list saves considerable time for busy families."