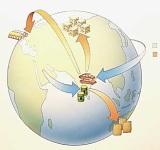 Montréal, Canada (PRWEB) May 16, 2013
ITTC is a training institution specializing in international trade. The courses are primarily for managers from small and medium size enterprises, international consultants and members of associations and trade promotion organizations (TPO). The courses cover all areas of international business.
Objectives:
This suite of webinars is intended to familiarize contractors, manufacturers, exporters, importers, traders and service providers a comprehensive view of international trade. Short-term training will help to clarify and develop the skills to act locally and abroad in foreign countries.
The benefits:

Time saving
Reach goals faster growth by shortening decision cycles;
Accelerate business process;
Provide employees with effective tools;
Savings in travel time decrease operating costs while improving productivity and employee efficiency;
Improve performance of employees by giving them access to training delivered by experts;
Through the review mode, courses are available at all times.
The platform includes:
Online Training
PowerPoint Presentation
Video Testimonials
Additional documents related to the topic
Interactive Webinars: Opportunity for discussion with the trainer
Platform for Internet training
This proposed program of online training Practical Aspects of International Trade PAIT, meets these requirements. It focuses on practice, designed and led by practitioners, and created in cooperation with key stakeholders in the practice of exporting.
Examples of topics:
Introduction to the global economic environment;
Strategies for developing markets;
Transportation & Logistics;
Import / export documentation and C-TPAT;
Risk Management and INCOTERM 2010...
General Information:
Training: Mondays from 18:00 to 21:00 EST
Location: Online Internet
For more information on training, contact us :
Email: info(at)international-trade-training(dot)net
Phone: 1-877-387-9009