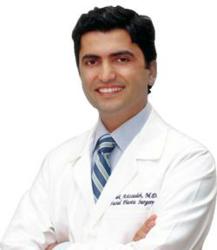 When people think of plastic surgery in America, their minds tend to go to procedures like facelifts, breast augmentation, or liposuction.
Beverly Hills, CA (PRWEB) May 15, 2013
AxoGen, Inc., a top company focused on the advancement of technologies surrounding peripheral nerve regeneration and reconstruction, provided attendees of the 2013 American Academy of Plastic Surgery annual meeting just days ago with multiple cutting-edge presentations surrounding new data on the clinical use of the Avance® Nerve Graft. Babak Azizzadeh, MD, FACS, and expert facial paralysis surgeon in Los Angeles, believes the studies not only provided a greater insight into the advancements of nerve regeneration, but also brought tremendous awareness to another side of plastic surgery.
"When people think of plastic surgery in America, their minds tend to go to procedures like facelifts, breast augmentation, or liposuction. The presentations brought forth by AxoGen, Inc., were not only extremely informative, but also brought recognition to very different developments useful in cosmetic and reconstructive surgery today," said world-renowned facial paralysis expert Dr. Azizzadeh.
Avance Nerve Graft is a processed nerve allograft meant for the restoration of peripheral nerve disruptions and helps to regenerate neural input across the inadequacy.
At the conference, AxoGen reported on findings from an innovative study referred to as the RANGER® Registry in which top researchers discussed observational information surrounding 213 nerve repairs with a processed nerve allograft. The second poster was titled, "Evaluating Nerve Repair Outcomes after 105 Nerve Reconstructions in the Upper Extremity Utilizing Processed Nerve Allografts," in which 81 individuals who underwent more than 100 nerve repairs were studied. Altogether, 18 medical centers and 32 surgeons helped contribute to the data presented.
"Currently, we use sural nerve grafts for the majority of serious facial nerve repairs. With further studies, nerve allografts can potentially reduce operating times and morbidity for facial nerve reconstruction procedures including Cross Facial Nerve Grafts and Hypoglossal-Facial Nerve Transfers," said Dr. Azizzadeh.
Dr. Azizzadeh is a facial reconstructive expert and is recognized as a Top Doctor by the US News & World Report. Babak Azizzadeh has helped hundreds of people with varying degrees of facial paralysis overcome their disorders through Gracilis Free Flap Surgery and other facial paralysis treatments. Dr. Azizzadeh is the director of the Facial Paralysis Institute and one of the leading figures in the field of Facial Nerve Paralysis.
If you would like to learn more about facial paralysis or how Dr. Azizzadeh can help you, please contact the Facial Paralysis Institute today by calling (310) 657-2203 to schedule your initial meeting. Further information can be attained by visiting http://www.facialparalysisinstitute.com.