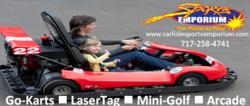 We've invested a lot in making the go-kart experience an unforgettable one
Carlisle, PA (PRWEB) May 15, 2013
Carlisle Sports Emporium, the area's leading entertainment complex, continues to prove that it's on the cutting edge for entertainment in PA by revealing its new F-22 model go-karts this summer. The new addition ushers in an exciting summer for the Carlisle Sports Emporium, which is already the ultimate place for go-karts in PA.
Commenting on the coming attraction, Owner Keith Plasterer noted, "We've invested a lot in making the go-kart experience an unforgettable one. The all new stealth-like F-22 model go-kart will drive this experience." The exciting new F-22s come equipped with a nine horsepower engine, geared for speed. The ¼ mile long Grand Prix track, complete with a bridge overpass, will host the new fleet of F-22s.
Carlisle Sports Emporium is an event facility like no other. From hosting corporate outings to birthday/graduation parties to bus groups, there is a venue for each occasion. With meeting spaces such as an outdoor deck, outdoor pavilion, large indoor multi-purpose room, or the newly furnished VIP Room, there is space for every event.
By offering multiple go-karts for all ages, the Carlisle Sports Emporium is positioned as the leader in go-karts in PA. The variety of go-karts offers an array of different go-kart experiences for all ages. Carlisle Sports Emporium has far more to offer than the impressive go-karts; they also feature a two-tier, 7,000 square foot Lasertron Laser Tag arena, making it the largest arena for Laser Tag in PA. Other offerings include a roller skating rink, multiple go-kart tracks, two miniature golf courses, and one of the largest arcades in PA. The latest addition to the arcade this month is the New Double Big Bass Wheel, an interactive arcade experience which allows players to compete against each other and earn up to 5,000 e-tickets.
For over 20 years, Carlisle Sports Emporium has been the prime location for entertainment in PA. Open year-round, it offers both indoor and outdoor interactive fun for all ages. Known as "The Place to Play," the Carlisle Sports Emporium is the perfect destination for all ages and every occasion.
Check out our new website & book your laser tag or outing online today!