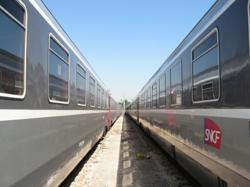 Train Chartering's experience behind the planning makes train hire possible in many countries on five continents for corporate or marketing events, or simply for special private celebrations.
Chippenham, UK (PRWEB) May 15, 2013
The Train Chartering Company reveals the world of private train hire and rail cruises in Asia, Africa, Europe, North America and South America; the range of these travel opportunities for special groups, corporate clients and individual customers is news to the majority of the public.
Train Chartering, founded in 1997, is highlighting the opportunities to charter a private train in many countries around the world; very special rail experiences are now possible on five continents from the world's leading charter train supplier.
Most of these trains are further highlighted on Train Chartering's Luxury Train Club.
Simon Pielow of Train Chartering says, "Train Chartering's experience behind the planning makes train hire possible in many countries on five continents for corporate or marketing events, or simply for special private celebrations."
ASIA
The Eastern & Oriental Express is a luxury train from the same stable as the Venice-Simplon-Orient Express, and therefore has a level of service one would expect. Private charters take in Singapore, Bangkok, Kuala Lumpur and other destinations.
The Maharajas' Express is one of the top luxury trains in India, and is managed by Indian Railways. Charter this train, and benefit from tried and tested excursion programmes to iconic sites with train tours starting from Mumbai and Delhi.
AFRICA
All of southern Africa's leading trains, the Blue Train, Rovos Rail's Pride of Africa and the Shongololo Express, are available for hire. Each train has its own distinct identity, benefits and separate routes. Train Chartering provides a consultation service to assist with planning, which can include a programme taking in charters of more than one of these trains.
EUROPE
The Majestic Train de Luxe replicates the imperial train of the former Austro-Hungarian Empire and operating mostly in Austria, Hungary, Slovenia, Switzerland and the Czech Republic. Travel with fine dining by Austrian chef Toni Mörwald, relaxing to live music; hire from EUR 14,600 (USD 19,250) per trip.
Marshal Tito's private train is now available for hire and is known as the Blue Train, a recently-refurbished glimpse of the lifestyle of this one-of-a-kind WW2 and cold war veteran. Organize presentations or meetings in the ceremonial saloon, or celebrate a private occasion. Minimum charter period from 12 hours for day travel, or sleep on-board or in hotels along the way.
NORTH AMERICA
The Royal Canadian Pacific is the most luxurious train on the continent, and one of the top 5 in the world. Hire the train for CAN$55,000 a day for up to 30 passengers.
SOUTH AMERICA
Inca Rail's Inca Princess is a private rail car for up to 12 passengers, the only carriage available for exclusive hire to and from Macho Picchu. Panoramic UV-protected side windows and curved overhead windows ensure uninterrupted views. Knowledgeable stewards ensure attentive service. The Inca Princess operates on demand all year round for US$10,000 one way or return.
This is simply a selection of the trains and private carriages that Train Chartering provides to its corporate clients and individual customers. Contact the company for more information about these trains and other quality rail travel opportunities.
About Train Chartering
Train Chartering, now in its 15th year, has provided private train charters and carriage hires to a wide range of clients. Train Chartering operates mainly in the UK, Europe and North America - though rail travel can be arranged almost anywhere there are passenger trains.
Extensive experience and wide contact base allows the selection of the best trains available, along with a suite of on-board services, handling every detail from complex timetabling to food, entertainment and train branding.
For more information, please visit http://www.trainchartering.com, contact Simon Pielow on +44 (0)1249 890176 or email infoATtrainchartering.com.
Train Chartering leads a group of rail booking sites: Luxury Train Club, Train Hire, Private Rail Cars, and World Train Travel.
The Luxury Train Club is part of Train Chartering; the personal booking service for the world's greatest train journeys, offering a concierge approach to booking train holidays, vacations and day trips as well as private rail charters and rentals for VIP and corporate bookings.