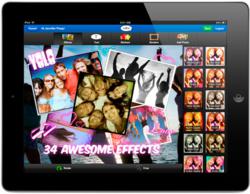 Los Gatos, CA (PRWEB) May 15, 2013
PiZap.com launched in 2008 and has grown into a highly social and fun community with over 22 million monthly unique users that create over 130 million pictures annually. PiZap offers users a variety of fun and free tools to creatively enhance, and share their photos and collages with friends and family. "The iPad is a perfect fit for piZap. We have always tried to make piZap fun and easy to use for everyone, and that is embodied in the iPad experience," said Sam Crisco, CEO of piZap.
Also noteworthy is that the app is programmed in HTML5. "We want to leverage the ubiquity of HTML5 to shorten development cycles and provide a consistent experience to users across multiple operating systems and devices," said Ryan Holoubek, CTO of piZap. Since the piZap app is written in HTML5, it will be much easier to launch on other tablets and Android devices.
About piZap:
Founded in 2008, piZap.com is an online photo editing website, Facebook application and iPad app. PiZap provides fun, easy and free design-tools to customize photos with integrated social sharing capabilities for over 50 million users. PiZap is a privately held and self-funded company based in Los Gatos, CA. For more information contact Kelly Darnall at kelly(at)pizap(dot)com. To download the app visit http://pizap.com/lp/pizap_ipad_app.