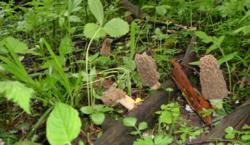 Petoskey, MI (PRWEB) May 16, 2013
53rd Annual Morel Mushroom Festival
May 16-19
Downtown Boyne City
Each May, Boyne City MI fills with hundreds of mushroom lovers from around the country who come seeking that elusive delicacy-the marvelous morel. Found in nearby woods and clearings, morels are favored by those who know their mushrooms.
Boyne City has hosted the National Morel Mushroom Festival for over 50 years and for a few short days, everything is all about mushrooms. Restaurants prepare exotic, morel-laden entrees, local songsters sing of the morel, secret hunting places (maybe) and recipes (definitely) are shared, and everybody goes on one of the mushroom hunts. A good year can yield thousands of the mouth-watering treats. But, even when a dry spell or late spring makes morels scarce, morels can be tasted at the 'Taste of Morels' and the festival is always fun for everyone.
For more information, visit http://www.morelfest.com or call (231) 582-6222.
24th Annual Zoo-de-Mackinac Bike Tour
May 18
Harbor Springs to Mackinaw City
The Zoo-de-Mackinac is a weekend of huge parties with great bands, one of the most scenic bicycle rides in the country, a lot of sunshine, views of the mighty Mackinac Bridge, and one magical island.
This is not a race. The Zoo-de-Mackinac is a collection of outdoor enthusiasts (2,200+ 2007) who want to enjoy a little physical exercise together in one of the most beautiful areas in the state of Michigan. The bike ride starts Saturday morning at Boyne Highlands Resort and spans 51 miles along Lake Michigan on a paved road with very little automobile traffic.
Riders pedal through rolling countryside and trillium covered forests, along sandy beaches, and are surrounded by breathtaking views of Lake Michigan from 400' high bluffs. We stop approximately halfway, at a unique place called the Legs Inn for a leisurely lunch and to swap stories. The ride continues on to Mackinaw City, where you'll catch a ferry to Mackinac Island.
For more information, visit http://www.zoo-de-mack.com or call (313) 727-4068.
Harbor Springs Cycling Classic
Jun 1
Birchwood Inn in Harbor Springs
This annual bike tour begins at 8am, 3 miles north of Harbor Springs. Tour on the famous "Tunnel of Trees" route with courses of 20, 44 or 62 miles. When the cycling's done, enjoy a barbeque and pool party. This is a gorgeous ride - don't miss it! Come spend the weekend in our neck of the woods.
Adults $25, children 6 - 12 $15, children 5 and under are free with advance registration. Day of event registrations, add $5. Lodging packages are available.
For more information, visit http://www.birchwoodinn.com or call (231) 526-2151.
11th Annual In-Water Boat Show
Jun 14 - 16
Bay Harbor Lake Marina in Bay Harbor
Bay Harbor Lake Marina will host the 11th annual Bay Harbor In-Water Boat Show Father's Day weekend, June 14 - 16. This year's show will feature in-water displays from personal water crafts to luxury yachts as well as diverse on-land displays.
The true stars of our show are all the beautiful watercrafts that will be on display over the weekend. Patrons can expect to see a range of one-of-a-kind exhibitors this year, offering everything from yachts to boating goods for sale at the event. There will also be on-land displays with exhibitors presenting wonderful items including smaller watercrafts, kayaks and boating accessories.
Show hours will run Friday, June 17 from 3pm – 8pm, Saturday, June 18 from 10am - 8pm and Sunday, June 19 from 10am - 3pm. For more information, visit http://www.bayharbor.com or contact Bay Harbor Lake Marina at (231) 439-2544.
19th Annual Petoskey Sand Dig Beach Volleyball Tournament
Jun 15 - 16
Petoskey State Park
Where better to play volleyball than on one of the most beautiful beaches in northern Michigan? Join in the fun and chances to win cash and prizes at this, the longest running Beach Volleyball Tournament in northern Michigan.
Register online at http://www.petoskey.us. This will be a great time whether you're playing or just watching the excitement.
For more information, contact Dave Faulkner at (231) 838-5553.
Bay Harbor Vintage Car & Boat Festival
Jun 22
Village at Bay Harbor
The Bay Harbor Vintage Car and Boat Festival kicks off the summer in Bay Harbor with a fantastic collection of classic cars and wooden boats. The highlight of the weekend is the Parade of Vintage Cars and Display of Vintage Boats, held Saturday afternoon and capped off with a drive-by awards ceremony. The parade is free to the public, and every year thousands of people from across the Midwest bring their families to see this elegant gathering of vintage cars and motor boats.
2013 will be the Festival's 15th year, and we are celebrating this milestone event by bringing in the best of the best. Vintage cars and wooden boats will be coming from all over the country, so it will be an exciting weekend for our exhibitors and guests. There will be fantastic social events and, of course, a fabulous showing of classic cars and boats.
For more information, visit http://www.bayharborfoundation.org or call (231) 439-2700.
The Petoskey Area Visitors Bureau assists visitors with accommodations in, and other visitor questions about, the northern Michigan area it represents. The Petoskey Area includes a 30-mile corridor located in northern Michigan along U.S. 131 near Little Traverse Bay. It stretches from Boyne Falls and Boyne City at the south end to Petoskey, Alanson and Harbor Springs in the north.
Petoskey and Harbor Springs are on the shore of Lake Michigan's Little Traverse Bay. Boyne Falls is located south of Petoskey, and Boyne City is on the southern tip of Lake Charlevoix. The area is characterized by rolling hills, wooded terrain and inland lakes, including a 38-mile inland waterway. The Petoskey area includes Bay Harbor Resort and Marina with luxurious amenities and private yacht club. There is world-class golf at Bay Harbor Golf Club and upscale lodging and dining at The Inn at Bay Harbor - A Renaissance Golf Resort. The area is also home to the internationally-known Boyne USA ski and golf resorts, Boyne Mountain and Boyne Highlands, as well as Nub's Nub, the area's third ski area.