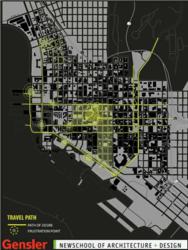 San Diego, Calif. (PRWEB) May 15, 2013
NewSchool of Architecture and Design (NSAD) is collaborating with Gensler, one of the world's leading design firms, to offer a special design studio this Spring term to six undergraduate and graduate architecture students. The "Emergent Futures" 2013 Gensler Professional Studio at NSAD gives students the opportunity to re-imagine San Diego's urban landscape, a project aligned with the school's mission to prepare students for professional practice through urban engagement, sustainable studies and international perspectives.
Gensler's San Diego office is leading the NSAD Design Studio. The firm is a multiple winner of the BusinessWeek/Architectural Record Awards, the U.S. benchmark for business design innovation. Four designers from Gensler are teaching the course: Darrel Fulbright, Tom Heffernan, Marin Gertler and Ben Regnier. Gensler advisors Kevin Heinly, managing director of Gensler San Diego; Dan Robinson and Nick Alanen will also contribute to the project.
The studio challenges students to identify future opportunities for San Diego's existing urban fabric. Students research the downtown area, then select already-developed sites to explore how the urban fabric might be "hacked" to reveal a dynamic, livable and sustainable urban core. "Through the 2013 Gensler Professional Studio at NSAD, students have the opportunity to explore urban sustainability issues while integrating the global perspectives of an international firm," said Kurt Hunker, NSAD's director of graduate programs, who is coordinating this unique studio experience.
The six participating NSAD students were chosen through a competitive selection process. They include graduate students Alison Downton, Jisun Kwon and Logan Suhrer and undergraduate students Forrest Agnew, Kyle Duvernay and Ei Khin Khin.
The 2013 Gensler Professional Studio at NSAD is one among several high-profile collaborations between NSAD and renowned architecture and design firms around the world. This Spring term, NSAD is also offering a special design studio in collaboration with the internationally acclaimed Bjarke Ingels Group. The BIG-NSAD design studio is exploring urban design as it pertains to freeways and coastal environments.
About NewSchool of Architecture and Design
NewSchool of Architecture and Design (NSAD), founded in 1980, is located in San Diego, California. For the past two years, DesignIntelligence has ranked NSAD among the top 10 undergraduate architecture schools in the western United States in its publication "America's Best Architecture & Design Schools." NSAD is accredited by the Accrediting Council for Independent Colleges and Schools (ACICS), a national accrediting agency recognized by the U.S. Department of Education and the Council for Higher Education Accreditation. NSAD's Bachelor of Architecture, Master of Architecture and Executive Master of Architecture programs are accredited by the National Architectural Accrediting Board (NAAB). NSAD also offers a pre-professional Bachelor of Arts in Architecture, along with a Bachelor of Science in Digital Media Arts, a Bachelor of Science in Construction Management, a Master of Construction Management and a Master of Science in Architecture. The school's expanding global design education offerings include a new Bachelor of Interior Design program available in 2013–2014. For more information, visit http://www.NewSchoolArch.edu.
About Gensler
Gensler is a global design firm, with 43 offices and 3,500 employees worldwide. Gensler helps clients succeed by focusing on the needs of the people they serve, whether they are employees, customers, sports fans, students, passengers or guests. Founded in 1965, Gensler has deep expertise in design and architecture across 20 practices, including commercial office buildings, professional services, retail, aviation, planning and urban design, entertainment and hospitality, sports stadia and education facilities. The firm also holds practices focusing on brand strategy, environmental graphic design, mission-critical facilities, and has recently invested in consulting for real estate workplace and sustainable design. Gensler's recent projects of note include the Shanghai Tower, JetBlue T5 at JFK International Airport, Houston Ballet Center for Dance, Facebook's global headquarters, Incheon International Airport in South Korea, Dubai International Financial Center and Duke University's Kunshan Campus in China. Gensler's San Diego office is located at 225 Broadway, Suite 1600, San Diego, Calif. 92101. For more information on Gensler, visit the Gensler website: http://www.gensler.com/