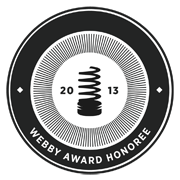 One of 11,000 entries, Parallel41.com is recognized for excellence in interactive creativity.
Dallas, Texas (PRWEB) May 14, 2013
IADAS, International Academy of Digital Arts and Sciences, has announced Parallel41.com among the chosen Honorees of the 2013 Webby Awards' Real Estate category: a highly coveted laurel for Internet marketers.
From 11,000 entries in 50 US states and across 60 countries, the Official Honoree status represents the top 15% of all work; which is a remarkable achievement. IADAS recognizes excellence in interactive creativity, establishes best practices, and pushes standards of web development to a higher plane. A video reflecting the creative process and digital engineering for the website is located at Parallel 41 Webby.
Parallel 41 was built in 2012 in the Stamford metro, thirty minutes from Manhattan. Its Walk Score is a teeming 92. The 124 unit mid-rise community leases for an average rate of $2,710, which is marginally higher than other communities in the area according to reports in MarketSurveyTools.com. Developed by Randy Salvatore of RMS Construction, LLC, the community offers numerous luxury features in an extraordinary location. Parallel 41 is being leased and managed by Trio Properties, LLC, led by Eileen Swenson. The property has maintained an impressive performance history.
The cumulative talents of Marketing Consultant Brandi Bailey, Artist Kelly Stanley, and Internet marketing innovator Becca Wilson has created a website masterpiece that is also highly functional and enjoyable. The photographic artwork and fluid motion captivate viewers instantly to the upbeat metro lifestyle that Parallel 41 offers.
Internet shoppers can peruse features, photos, and the neighborhood with a few clicks. Floor plan renderings are provided artistically to scale; Internet visitors can arrange virtual furniture to see how their belongings will best fit. They can select an individual apartment from the interactive site plan by floor level search and viewing what units are available. Guests can schedule a tour, reserve a unique apartment address and complete an online application from the convenience of their computer or mobile device. The Parallel41.com website is the all-time highest lead generator, bringing in over one-third of all prospect inquiries.
The 55 inch touch screen kiosk offers multiple services to guests on location. Apartment shoppers can view comprehensive leasing information, neighborhood features, take a virtual tour, access the interactive site plan and view stunning photography.
Parallel41.com also won the "Best Real Estate Website Award" from the Web Marketing Association in March, 2013, in the Internet Advertising Competition.
Kelly O'Dell Stanley, President of KOS Design, has provided artistic concepts, artwork, and creative content for clients for eighteen years. She has received many accolades and awards for outstanding achievement. As well as talented business writing, Kelly also writes inspirational literature and is completing a soon forthcoming book.
Since 2002, Brandi Bailey and her team of creative and multifamily experts have worked with owners and developers throughout the country to effectively position their properties, streamline their product design, and turn around under-performing assets. Brandi excels at developing outreach marketing and advertising plans for new and existing properties and developing training curricula for on-site teams based on quantifiable decision-making and best practices in property management. Simply put: Brio's vision accelerates performance, which equates to realized revenue enhancement and bottom line results.
RMS Companies is a full service, vertically integrated real estate firm based in Stamford, CT and is consistently recognized as one of Connecticut's leading real estate developers, with in-house construction, management, sales and leasing capabilities. The company is divided into three divisions: RMS Commercial, RMS Residential, and RMS Hospitality. The company is recognized for culminating deals and completing projects in an opportune fashion. RMS is affiliated with leading industry associations and actively participates in numerous professional and charitable organizations.
Trio Properties LLC has managed over 65,000 apartment units and one million square feet of commercial facilities and has a thirty-year record of success. Projects include due diligence management of stabilized assets, repositioning, lease-ups and consultation and management services for new development and construction of multifamily assets. Trio Properties recently kicked off their sister company, 72 Residential, LLC, to service their Florida clients.
About Spherexx.com—Ad Agency | Software Development | Data Centers
Established in 2000, Spherexx.com is recognized as an established leader in the apartment industry website, Internet marketing and software development services. With offices located in Tulsa, Dallas, Austin, and Houston, the company has been distinguished as one of INC5000's fastest growing companies. Spherexx.com is a recipient of the International Summit Creative Award 2012 for creative and communication excellence.
Spherexx.com offers a wide selection of professional services including web design and development, touch-screen kiosks, Internet lead generation tools, online advertising, apartment leasing consulting, advanced mobile technology, apartment lease-up marketing consulting, and search engine performance. The company also provides branding services, video/multimedia production, print media, and copywriting as well as website and email hosting, database solutions, pay per click, e-commerce solutions and custom programming.
Spherexx.com has developed CRM (customer relationship management) products, marketing and lead generation tools that allow clients to better manage and convert leads to leases and sales. These applications are branded under Messagekast.com, ILoveLeasing.com, MarketSurveyTools.com, and RentPush.com. Spherexx.com provides web-based prospecting, marketing, advertising management, and support services.
Spherexx.com has provided services to innovative real estate companies like Abacus Capital Group LLC, Atlantic Pacific Companies, The Bozzuto Group, CompassRock Real Estate, The Dermot Company, Inc., Realen Properties, Riverstone Residential and Roseland Property Company―A Mack-Cali Company and ZRS Management. The company represents over one hundred years of direct, executive level property management experience that readily identifies with the challenges and solutions of multi-family property management professionals.