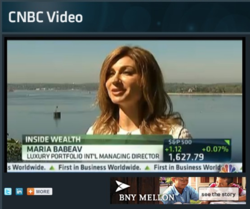 Luxury is on sale and presents amazing value. It is what attracts a lot of international buyers, Russian buyers in particular
Lloyd Neck, New York (PRWEB) May 22, 2013
With recent coverage on the Great Gatsby movie, there has been much attention focused on the Gold Coast of Long Island, home to some of the grandest, oldest mansions in the country. In Jay Gatsby's time, these extravagant estates were famous for their high price tag and now better known for their price adjustments.Better prices and great value are finally drawing in buyers. Maria Babaev attributes this recent activity to the broader housing recovery as well as strong interest from international buyers, especially from China and Russia.
CNBC wealth reporter, Robert Frank interviewed Maria Babaev, Managing Director of Laffey Fine Homes International Luxury Portfolio Division at her $11.7 million dollar listing, Fort Hill House in Lloyd Neck, New York. "On 10 acres with more than 25,000 square feet, this Tudor Mansion,comes with a great price. Originally the price was $22 million, so prices are coming down in this part of the world" reported Frank. He talked to Babaev about her listings and the luxury real estate market, "Luxury is on sale and presents amazing value. It is what attracts a lot of international buyers, Russian buyers in particular", Babaev explained. Fort Hill house was originally listed for $22 million.It is now listed for $11.7 million. "Suddenly we have a lot of interest" Babaev said. It is a global market and mansions are being priced reasonably where foreign buyers are more comfortable with making deals.
About Maria Babaev : A well-known expert on Long Island's Luxury Real Estate Market and fluent in Russian, Babaev's impressive network of like-minded individuals has allowed her to develop a highly respected pipeline of foreign investors, buyers of luxury residences, estate-style vacation homes and real estate investment purposes. With a current portfolio of $85 Million in luxury listings and closing over $35 Million in 2012, Babaev's widespread knowledge of the subtleties of the North Shore's most prominent villages, towns and enclaves, allows her to consistently deliver invaluable guidance to this exclusive network of clients and customers.
About LuxuryLongIsland.com: The interactive web-based real estate search platform with next generation functionality offers state-of-the-art search capabilities. Search includes local & global properties, area mapping, and recently sold statistics. Users can create free accounts for customized searches, new property listings to market auto-notifications and price change alerts. Additional benefits include local market blogs, targeted Long Island real estate news and an assortment of home owner related tips and resources. At the core of this site are targeted and localized real estate information and a dynamic information platform with current topics and data that matters to the Long Island residential real estate investor.