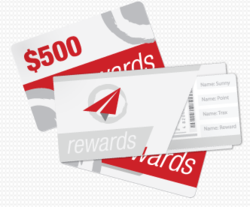 Plainview, NY (PRWEB) May 14, 2013
MyPoints.com and other online shopping portals will make room for their newest cousin PointraxRewards.com. In a departure from its predecessors, Pointrax Rewards has carved out a unique space as a travel focused loyalty program that places members on the fast track to discounted trip and vacation redemptions.
The site's loyalty model is straightforward. Site members shop on Pointrax Rewards for major brands and special offers and earn Pointrax bonus miles on every purchase. Members' earned miles can be subsequently used towards travel related redemptions, including airline miles, gift cards, and special vacation packages/hotel deals.
Pointrax Rewards utilizes exclusive partnerships to feature an up-to-the-minute rotation of flight, hotel, and cruise deals, bringing members major discounts on travel through their onsite purchases.
First-time members receive an 1000 mile bonus for signing up, as well as a complimentary $25 hotel gift card on their first transaction. Membership is free.
For more info or to join Pointrax Rewards, click here.