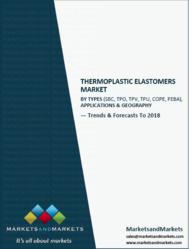 Rockville, MD (PRWEB) May 14, 2013
A thermoplastic material softens, shows plastic property, when heated, but it does not set or get cured. Thermoplastics generally available in the form of pellets become softer and liquid when exposed to high temperature.
Due to this property, molding and processing of thermoplastics becomes easy. Shape change of a thermoplastic material is completely physical and with the reapplication of heat, it is purely reversible.
A thermoplastic elastomer, a blend of elastomers and thermoplastics, combines the elastic properties of a thermoset elastomer and the processing attributes of a thermoplastic. TPE is made of two phases, hard (thermoplastic) and soft (cured thermoset rubber particles).
This makes TPEs costlier than thermoset rubber but more effective. The property of TPEs to be easily reprocessed makes them environmental friendly leaving very chemical wastage. Many regulations in various customer markets affirm usage of TPEs for this reason.
The global market for TPE has grown evidently during the past few years and is expected to grow at a healthy pace in the next five years, driven by cost effectiveness and adaptability of TPEs in major end-user markets. China shared about 24.3% of the TPE demand in 2012. Consumption and revenue generation of TPE is seen to be high in APAC, followed by the North American region.
Thermoplastic Elastomers Market By Types (SBC, TPO, TPV, TPU, COPE, PEBA), Applications & Geography — Trends & Forecasts To 2018 aims to estimate the global market of TPE for 2013 and to project the expected demand of the same in 2018. This market research study provides a detailed qualitative and quantitative analysis of the global TPE market. It provides a comprehensive review of major market drivers, restraints, opportunities, winning imperatives, challenges, and key issues in the market. The market is further segmented and forecasted for major regions of North America, Western Europe, Asia-Pacific, and Rest of the World (ROW). Major countries with the market volumes and revenues are covered for each region.