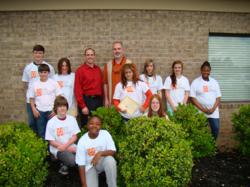 We just started Smile for a Lifetime to help some kids who needed help...When we came up with the idea back in 2008, we never dreamed that S4L would become the largest pro bono provider of orthodontic treatment in North America!---Dr. Benjamin Burris
Jonesboro, AR (PRWEB) May 15, 2013
The Smile for a Lifetime Foundation is a charitable non-profit organization that provides orthodontic care to individuals who may not otherwise have the opportunity to acquire assistance. Launched in 2008, the Smile for a Lifetime Foundation aims to reach individuals with financial challenges, special situations, and orthodontic needs. The Foundation sponsors the orthodontic care of hundreds of patients each year. Smile for a Lifetime was founded by local Northeast Arkansas Orthodontist Dr. Benjamin Burris, owner of Braces by Burris located in Jonesboro, Paragould, Blytheville, Forrest City and West Memphis. The organization that began in Northeast Arkansas has now grown to become an international charity with 137 chapters across the United States and Canada. The local chapter accepts applications from candidates living in Northeast Arkansas and Southeast Missouri.
Usually, three scholarships are awarded monthly, nine quarterly. Today was the exception with ten recipients being announced, awarded and seen for their initial exam at the Jonesboro office of Dr. Burris. Since its inception, over one million dollars in free orthodontic and dental treatment has been awarded locally and over ten million internationally through the Smile for a Lifetime Foundation.
The candidates are only asked to do a few simple things in return for their scholarship, such as to take good care of their teeth by brushing every day, attending all scheduled appointments including a routine cleaning every six months and to always pay good will forward by donating their time and talents. A few examples of good will gestures mentioned were volunteering at their church or school or by just helping a younger sibling with their school work.
If you would like more information about this topic, or to schedule an interview with Dr. Benjamin Burris, please contact Shelly Anderson at 870-882-3350 or by email at shellya(at)bracesbyburris(dot)com. Visit our website at http://www.S4Ljonesboro.com
Locations:
Blytheville
3710 E. Main St. Suite J
Blytheville, AR 72315
Tel: 870-763-1223
Forrest City
4941 N. Washington
Forrest City, AR 72335
Tel: 870-633-3730
Jonesboro
2606 Browns Lane
Jonesboro, AR 72401
Tel: 870-972-8294
Paragould
2709 Kingshighway Ste. 4
Paragould, AR 72450
Tel: 870-236-4424
West Memphis
126 West Bond Street
West Memphis, AR 72301
Tel: 870-735-7805