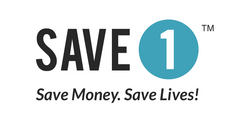 For us, it's really about making it super easy for people to save online. We wanted to create a website that would be a 'no-brainer' to use.
Sarasota, FL (PRWEB) May 15, 2013
The site, founded by the Smiths, a family that is passionate about ending child hunger, has become a buzzword among online shoppers who share the feeding advocacy's slogan, "Save Money. Save Lives!"
Save1's concept is very simple. All one has to do is visit http://www.save1.com and see the coupons and deals from more than 5,000 top online stores in the United States. When a shopper buys from any of those stores, using any of Save1's coupons and special deals, Save1 receives a small commission, part of which will be used to feed a hungry or malnourished child.
"The message of Save1 has spread because of our dedication to feeding children worldwide each time a coupon is used, and saving people the most money each time they shop online," explains Gerrid Smith, the eldest Smith son and Save1 co-founder, about the win-win situation.
According to Smith, most people learn about Save1 via word of mouth, although having a very active social media presence has been successful. Apart from more than 46,000 fans on Facebook, Save1 is also widely popular on Pinterest, which points thousands of visitors back to the website each month. Not surprisingly, the Save1 website's most avid supporters are American moms.
Based on statistics, around 17,000 children die each day from the effects of malnutrition. Interestingly, it only costs 30 to 50 cents to feed a hungry child, or $30 dollars a month to nurse a child in developing nation back from the brink of starvation. Thankfully, too, there are life-saving formulas that have been developed that increase a child's survival rate to as high as 95%.
Save1's feeding partners include Action Against Hunger, Feeding America, Feed My Starving Children, and Project Peanut Butter. Together with thousands of Save1 supporters and shoppers, the harrowing statistics involving starving children could be resolved in no time. By working together, everyone can make a difference.
Apart from visiting the Save1 website, other quick and easy ways to feed a child include sharing the Save1 website with your Facebook friends, liking the Save1 Facebook page, and signing up for the Save1 newsletter.
"For us, it's really about making it super easy for people to save online. We wanted to create a website that would be a 'no-brainer' to use. Each time you shop online, use a coupon from Save1 and feed a child in need," adds Smith.
About Save1
Family owned and operated, Save1 provides coupons and special offers from thousands of the top online retailers, enabling shoppers to feed a hungry child with every offer redeemed. Incorporating the Save Money, Save Lives principle, Save1 donates the cost of a meal to one of its non-profit partner organizations every time a shopper uses a coupon or special offer from the site. For more information, please visit http://www.save1.com.