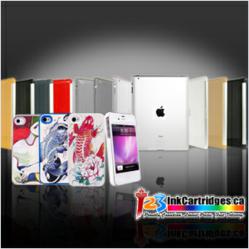 Lachine, QC (PRWEB) May 15, 2013
123inkcartridges.ca, a well-known online supplier of computer and mobile accessories, announced the addition of a new Mophie Juice Pack Air Battery Case for iPhone 5. The product is the result of over five years of non-stop innovation and was designed for frequent and heavy users of iPhone 5 who may not always be closed to an electric outlet. When the iPhone runs out of battery, the user needs only to flip a switch and up to 100% of extra battery becomes available to the iPhone 5.
"The Mophie Juice Pack Air for iPhone is ideal for very busy businessmen who use their iPhone 5 all the time, young people with very active social life and employees with long commute to and from work," says 123inkcartridges Product Director Coco Sun. "It allows uninterrupted power supply to iPhone 5 and frees the user from any interruption in his day."
The battery case has a refined outer band and a no-slip smooth finish for easy and comfortable grip. Its proprietary mute switch and pass-through buttons integrate the design of the case to the iPhone for easy use. The micro-USB cable allows user to charge the iPhone and the Mophie Juice Pack at the same time.
More information about the Mophie Juic Pack Air is available at the company's main site http://www.123inkcartridges.ca/accessories-product/2105_JPA_IP5_BLK-.html. In addition to the USB charging cable, the Mophie Juic Pack Air for iPhone 5 package comes with, User Manual, Pass-through audio jack cable.
About 123inkcartridges.ca
123inkcartridges.ca is one of the fastest growing online suppliers of printers and computer-related products in Canada. With its well-facilitated quality control and service centers, the company provides expertise and flexible business processes that enhance product features and minimize supply chain disruption. Its online catalogue of over 10000 of the best and latest products is available at http://www.123inkcartridges.ca.