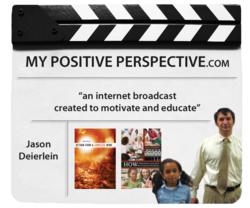 Wearing a prosthetic leg almost becomes second nature after a while
Charleston, SC (PRWEB) May 14, 2013
On May 13, 2013, My Positive Perspective broadcast an episode with returning guest Terry Hamlin. Not only was Hamlin a cofounder of the Bridge Run, an immensely successful event held in Charleston, SC, but Hamlin also has a prosthetic leg. When Deierlein asked Hamlin about dealing with the fear of losing his leg, Hamlin said, "Not only is it a fear to lose a leg, but to be so heavily involved in the sport of running made the event of losing a limb a lot to stand up to."
The episode began with the host, Jason Deierlein, noting that his company has been working with the Nick Collins tragedy for some time now, and that he first became involved because he too had been in a, "Catastrophic c ar accident, lengthy coma, and painful rehabilitation." Deierlein said this was how he related to local musician, Nick Collins; however Hamlin related to him also in the fact that both had lost limbs.
During the episode, Hamlin said that Collins' father was an "extremely good friend and college." Hamlin also noted that Collins was "An extremely positive person and that his youth along with his resolve were going to be things that were assets to him and his recovery." When Deierlein asked Hamlin if he had some words of advice for Collins as he adapts to having a prosthetic leg, Hamlin said, "Wearing a prosthetic leg is difficult at first, but it doesn't take too long before it becomes second nature to you."
My Positive Perspective is a media outlet believing that improvement in our community wil l be best achieved by focusing on the good things happening in our world today. Having survived a near fatal car accident as a youth, a shift of perception forced one to have a mentality of always concentrating on the brighter sides of things. This was true, and in my book, Return From a Comatose Mind, this belief was put to the test. Appreciation for life was the biggest thing one took away from my brush with death, and it is because of that gives me such a huge desire to be helpful to many. My Positive Perspective is a way of overcoming challenges.