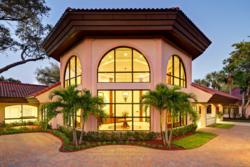 Regents Park Boca Raton is determined to combat any threats that might jeopardize quality care.
Boca Raton, Florida (PRWEB) May 15, 2013
While most nursing homes are shrinking staff or cutting specialized programs because of Medicare and Medicaid reimbursement cuts over the past year and a half, Regents Park of Boca Raton is doing quite the opposite. In an ambitious strategy to ensure that quality care and program development grow, the skilled nursing and rehabilitation center has hired two experts — Gilda Osborn and Leslie Curtis — to meet current and future challenges.
Gilda Osborn, with more than 35 years as a medical and administrative professional, joined South Florida-based Regents Park Boca Raton May 6 as the facility's administrator. In that capacity she is tasked with overseeing daily clinical and administrative functions, ensuring patient care is not compromised, and implementing any changes required by changes in state and federal laws. She comes to the position from Whitehall Boca Raton, where she worked for 25 years, much of that time as the director of nursing and most recently as that nursing home's administrator.
She received her degree in health care administration with an additional certificate specialist in aging from Lynn University. She is also a licensed nursing home administrator.
Osborn keeps a close eye on an industry that continues to evolve, and has been active in numerous associations, including as a founding board member of the Florida Health Care Association of Directors of Nursing. She also serves as a board member of the District VII Florida Health Care Association.
Leslie Curtis also joined Regents Park Boca Raton May 6. She came aboard as its director of business development, a position the company created to meet changing times. Curtis, who previously worked for Whitehall Boca Raton for 18 years as its business development director, has already begun to lay the groundwork for bolstering existing rehabilitation and therapy programs, creating new programs that draw on Regents Park Boca's strengths as a qualilty facility, and strengthening the company's position with the public and medical communities.
Curtis' healthcare career began as a licensed practical nurse doing bedside nursing in hospitals. She shifted her focus in subsequent years, working in case management, customer service and admissions in medical settings, and developing ever-greater expertise in rehabilitation settings. She studied business administration at Barry University and carefully watches trends that impact healthcare companies affected by Medicare and Medicaid changes.
"With the expertise that Gilda Osborn and Leslie Curtis bring to this tough industry, we believe we are in a position to not only continue the quality care we're known for, but find increasingly better ways to serve our residents and grow our business in a thoughtful manner," said Ari Hollander, chief financial officer.
Nursing homes, hospitals and other medical entities began to feel operational pressures in October 2011 when the federal Centers for Medicare and Medicaid Services began slashing the rate of reimbursement and making other changes. Already one of the most heavily regulated industries in the country, not all nursing homes could continue to operate effectively. Regents Park Boca Raton is determined to weather whatever changes come its way, and assure its residents and employees that quality will remain the highest priority. Its move in bringing Osborn and Curtis aboard is part of that commitment.
---------------------------
Regents Park Boca Raton is an independently owned and operated skilled nursing and rehabilitation facility in Boca Raton, Florida. It provides full services to both long-term and short-term residents. The facility was established in 1984 and remains a family owned operation.