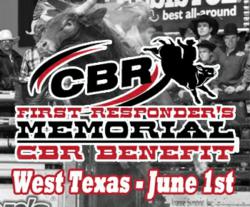 I am honored to be part of this event, to see my friends and to benefit the people of West in any way possible
Fort Worth, Texas (PRWEB) May 15, 2013
Country music recording artist, and Texas native, Deryl Dodd will join Championship Bull Riding in West, Texas June 1, 2013 for the "First Responder's Memorial CBR Benefit". Dodd who made his start in music in Waco, Texas, the adjoining town to West, will play a concert after the bull riding.
Dodd made the announcement from his home in Fort Worth, "Having lived many years in the Waco area, I have great friends who were affected by the tragic explosion in West. I can tell you one thing, they are a strong and close knit bunch of people who take care of each other and will not be defeated by this or anything else that ever comes their way. So, I am honored to be part of this event, to see my friends and to benefit the people of West in any way possible."
Championship Bull riding decided to take action and host a benefit for West after catastrophic explosion at a fertilizer facility devastated the town in mid-April. Previously CBR worked with the West Fair and Rodeo Committee to produce Bullfest in West, a tremendously popular Horizon Series event held annually for the last two years in June. Tragically, one of the directors responsible for Bullfest in West, William "Buck" Uptmor, was one of the first responders killed in the explosion.
The entire production of the event will be donated, everything from stock to tickets, as well as all proceeds will benefit the West Volunteer Fire Department – Special Victims Fund.
Championship Bull Riding has also launched "Buy a Ticket for West"- a fundraising campaign on the CBR Website( http://www.CBRBull.com/donate) that gives everyone the opportunity to make a donation. All the money donated to the "Buy a Ticket for West" will go towards the purchase of tickets for the community of West. Proceeds raised by "First Responder's Memorial CBR Benefit" will be donated to the West Volunteer Fire Department- Special Victims Fund. Special thanks to the CBR Corporate Sponsors who are helping to make this possible. Mahindra USA, CINCH, Evan Williams, Smokey Mountain Snuff.
Who: "First Responder's Memorial CBR Benefit"-Benefits The West Volunteer Fire Department – Special Victims Fund
When: Saturday June 1st, 2013
Where: West Rodeo Grounds
Time: 7:00PM
Tickets: All tickets just $10- BUY A TICKET FOR WEST donations can be made at http://www.CBRBull.com/donate