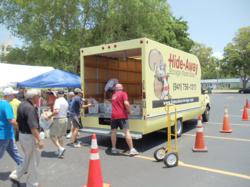 The Hide-Away "Squirrel" picked up almost 10,000lbs of the food items delivered to St. Joseph's Food Pantry
Bradenton, FL (PRWEB) May 24, 2013
Hide-Away Storage donated the use of its moving truck to help transport food from local post offices to St. Joseph's Food Pantry as part of the National Association of Letter Carriers (NALC) "Stamp Out Hunger" National Food Drive – the largest one-day food-collection drive in the nation.
According to Mike O'Driscoll, Director of Pantry Bread Stewards for St. Joseph's Catholic Church, "The Hide-Away 'Squirrel' picked up almost 10,000 pounds of the food items from the post office and delivered them to the Food Pantry."
Mike and his wife Patti, both former Hide-Away Storage team members for 10 years, joined with over 200 volunteers on Saturday, May 11, 2013, to unload, sort and stack all of the donated food items in the Food Pantry storage rooms.
This year was the 20th anniversary of the food drive and over 1,400 NALC branches participated. Throughout the day, letter carriers collect nonperishable food items from homes and distribute them to local food banks. Last year, the food drive gathered more than 70 million pounds of food, bringing the grand total to 1.2 billion pounds.
St. Joseph's collected about 69,000 pounds of food last year and hoped to collect about 100,000 pounds this year. The Food Pantry at St. Joseph's Catholic Church serves 30,000 families in Manatee County each year with food and clothing.
About Hide-Away Storage
Hide-Away Storage operates 10 traditional self-storage facilities and two Mobile Storage facilities on the Southwest coast of Florida. The self-storage facilities are located in St. Petersburg, Ellenton, Bradenton, Sarasota, Ft. Myers, and Naples, Florida. Hide-Away delivers portable storage units in Pinellas, Manatee, Sarasota, Lee and Collier Counties. The company also provides full-service moving of household goods. Hide-Away has approximately one million square feet of storage space, and is headquartered in Sarasota, Florida. The company was started in 1977 in Bradenton by Steve Wilson, who remains the managing partner.