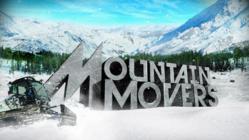 "We go into every project with supreme confidence. On this one, we knew this was going to be a gamble. It's early season. It warms up more than we thought. It rains. There's opportunity for it to be an utter disaster," said Chris "Gunny" Gunnarson.
Verdi, NV (PRWEB) May 14, 2013
The second episode of 'Mountain Movers,' National Geographic Channel's new series presented by Chevrolet, features the crew at Snow Park Technologies (SPT) battling Mother Nature and mechanical equipment issues as they race the clock to finish a custom build for Red Bull's professional athlete team. The project, one of the first in the early season, must be completed before the athletes arrive for training at Sun Valley Resort.
"We go into every project with supreme confidence. On this one, we knew this was going to be a gamble. It's early season. It warms up more than we thought. It rains. There's opportunity for it to be an utter disaster," said Chris "Gunny" Gunnarson, owner of SPT.
"There is nothing better than building something and watching people go ride it," said Andrew Erath, snowcat operator for SPT. "That's one of my favorite things is watching high level athletes jump. So, it's cool. You sit back and watch the show."
With partner relationships and his crew's reputation and pride on the line, Gunny and his team demonstrate their work ethic and attention to detail as they construct the Red Bull Training Grounds – a 65-Foot jump and a jib park ending with a cannon box feature into an airbag landing.
Working in the most remote locations under extreme conditions, Mountain Movers profiles the SPT crew's every move — from battling with avalanche control to building a halfpipe in blizzard conditions. In each episode, we'll see passion and craftsmanship at work. No one understands how to move and shape snow like this team.
"The Meltdown"
Thursday, May 16, at 8 p.m. ET/PT
SPT's next major project: an Olympic training camp for elite Red Bull athletes. While warm temperatures make it a high-risk project, Gunny is determined to get the job done, sending SPT's "Jr. Meteorologist" Frank to lead the charge. But when Frank and lead snowcat operator Corley arrive at Sun Valley, they are shocked by the lack of snow on the ground, and are forced to redesign the course before Red Bull pulls the plug on the project. Corley and Frank hit the ground running and make some serious progress pushing snow, until Corley faces a potentially fatal accident with his machinery.
Narrowly escaping a disaster, Corley continues to build the massive 65-foot jump. But just as the temperatures drop and the SPT crew finally makes headway with the jump, Mother Nature strikes again, sending an unprecedented rainstorm on a course to destroy their progress. Already behind schedule, the SPT crew must wait out the bad weather before they can get back on the snow.
About Chris "Gunny" Gunnarson
Gunny is the creator and owner of SPT and an iconic, highly respected name in the snow sports industry. At a young age, he became interested in the infrastructure necessary to fuel his snow sport passion and was fascinated with the concept of moving tons of snow to create winter works of art. In the 16 years since SPT was born, Gunnarson and his crew have designed and built more than 250 competition courses, including all of the Winter X Games in the United States and Europe, the Burton U.S. Open and the Winter Dew Tour. When reality TV producer Jason Carbone met Gunny, he knew that he had to capture the real-life drama of his world, battling the most extreme weather that Mother Nature can dish out to create the pulse-pounding competition courses for the world's most popular action sports events.
Mountain Movers is produced by Good Clean Fun for the National Geographic Channel. For Good Clean Fun, Jason Carbone and Sarah Kane are executive producers. For National Geographic Channel, executive producer is Michael Mavretic, senior vice president of programming and development is Kevin Mohs, executive vice president of programming is Michael Cascio and president is Howard T. Owens. General Motors is a co-producing partner and Chevrolet is the lead media partner of Mountain Movers.
For more information about Mountain Movers, visit http://www.snowparktech.com or National Geographic Channel.
About Snow Park Technologies
Snow Park Technologies (SPT) is the world's leading consulting team for special projects on snow. SPT's wide range of expertise includes designing and building some of the most renowned resort terrain parks and halfpipes; high-profile ski and snowboard competition courses; and countless on-snow productions. SPT also provides event production services, sport organizing and marketing services aimed at youth categories. The SPT team is a collection of the most experienced and talented freestyle park and pipe innovators in the world, whose dedication and passion for snow sports has redefined the winter landscape and what is possible on snow. For more information, visit SPT's website at http://www.snowparktech.com and follow us on Facebook at facebook.com/snowparktech and Instagram @snowparktech.
Media Contact:
Kim Dresser (Indie Agency LLC), (949) 300-5546, kim.dresser(at)indiepragency(dot)com
###