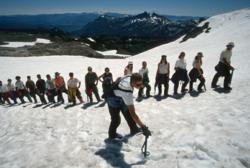 "Seeing the struggles of the world up-close and personal is a way of breaking cultural, social and language barriers, and being exposed to the world doesn't mean you need to travel far." - Maddie Salzman
JACKSON, Wyo. (PRWEB) May 14, 2013
Wilderness Ventures trip leader Maddy Salzman recently gave an inspiring presentation on her idea of "new environmentalism" for a live audience at a locally organized TEDx event at Washington University.
Seeking a degree in Environmental Policy during the school year and leading Wilderness Ventures teen adventure camps in the summer, Salzman opened the talk with memories of a once-in-a-lifetime experience on her most recent trip to Alaska. Salzman and her students were lucky enough to witness an ancient glacier calve ship-sized chunks of ice into the sea; contributing to the startling eight miles the glacier has retreated in the past century.
The ability to experience calving glaciers from the seat of a kayak, as Wilderness Ventures students have for the past four decades, is an opportunity at risk of disappearing for future generations. However, Salzman quickly pivots her talk from experiences available to a lucky few, to the climate change-related circumstances that effect the daily lives of everyone on the planet – discussing the global (and universally local) implications of global warming. In doing so, she frames climate change as a "human issue" that transcends borders, politics and opinion. To begin to tackle the problem of climate change, she proposes three universal tools: exposure, empathy and enterprise.
High Exposure
In her call for "exposure," Salzman invites people to get out and explore the world. Discover Alaskan glaciers. Wilderness Ventures offers opportunities to youth as young as 12 years old to visit the rain forests of Costa Rica and the Dominican. SCUBA dive the Great Barrier Reef and the spice island of Zanzibar.
"Seeing the struggles of the world up-close and personal is a way of breaking cultural, social and language barriers," says Salzman, "and being exposed to the world doesn't mean you need to travel far."
Natural and cultural wonders that inspire empathy and understanding are waiting in amazing places like Yellowstone National Park, on Mount Rainier, the Olympic coast and countless other amazing destinations that have captured the hearts of over 21,000 Wilderness Ventures students since 1973.
High Empathy
Ironically, it is the people whose lifestyles have done the least to cause global warming who are often the most affected by climate change. This population relies on the earth for their survival.
"Empathy helps us focus on making the world a better place for all of us," said Salzman.
As the international arm of Wilderness Ventures, Grand Earth Adventures connects students with amazing cultures and environments while fostering empathy by enabling students to see themselves as part of a global community. Grand Earth Adventures drive empathy and intercultural sensitivity on village service projects in Ecuador, Peru, Costa Rica, the Dominican, Tanzania, Thailand and Fiji.
High Enterprise
Concluding her TED Talk, Salzman calls on audience members to "establish a new vision of the world through enterprise." She resolves that environmental awareness belongs in every field and industry. Conservation is not a compartmentalized discipline. Rather, a conservation ethic that can bring the environment into all fields, and tie into every industry – from urban planning to investment banking. As pioneers in the field of outdoor education since 1973, Wilderness Ventures is proud to instill an ethic of civil, social and environmental responsibility in each new generation of students.
To view the entire TEDx Talk from Wilderness Ventures staffer Maddie Salzman, visit http://bit.ly/14fyuiS.
About Wilderness Ventures:
With more than 21,000 student alumni, Wilderness Ventures has pioneered outdoor adventures for young adults and has paved the way for youth travel around the world. Their 40 years of experience, unwavering values of community, inter-personal growth, wholesome environments, safety, wilderness education, discovery, conservation, and exploration have led to their unmatched and trusted reputation. Wilderness Ventures currently holds special permits to operate their teen adventure camps in 20 National Parks and 17 designated wilderness areas with special permits.
###