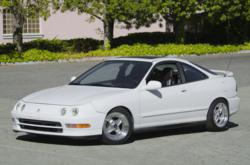 Morgan Hill, CA (PRWEB) May 13, 2013
With their Project Acura Integra, Andy's Auto Sport has picked up one of the most popular sport compact platforms and performed a myriad of modifications from suspension and engine performance to bucket seats and other sporty interior touches. This stark-white Acura has been subtly modified to turn heads, enthrall passengers and impress judges, all while remaining a level of civility that even a grandmother would approve of. Now, the team at Andy's Auto Sport has decided to take the next step. With the addition of a new Hondata engine control system, the team will be able to expand its control of specific engine functions that will help turn the little white Acura into a tuner's dream.
The Hondata system has been around for some time now and since its inception, it has gained a reputation as a reliable and effective approach to providing the benefits of a standalone engine management system without the wiring nightmares and sky-high costs that installing a standalone system entails. Rather, the Hondata system is merely soldered into the standard Honda ECU.
This innovative tuning approach is sure to provide an impressive improvement in engine performance as well as versatility due to the multitude of different qualities it offers. For one, it provides the user the ability to program shift lights, so the driver will know when to shift without having to watch the tachometer or wait for the rev-limiter to engage. This feature is especially useful for drag racers who appreciate every tenth of a second saved during a quarter-mile run. The rev-limiter can be controlled so as to offer a "launch control" setting where the RPM's are maintained at a consistent, user-specified level prior to releasing the clutch, which allows the driver to concentrate on the starting lights and helps ensure consistent launches.
The rev-limiter can be raised if the user so wishes, too. However, the real reason the Hondata system has been chosen for Andy's Project Integra was to provide an environment where forced induction could be utilized safely: Andy's plans to turbocharge the Acura. Now, turbocharging is not as simple as bolting-on a turbocharger, despite what some seem to think. With a high compression motor such as the one sitting in the Integra's engine bay, the process is a bit trickier. The timing and fuel delivery must be drastically altered as the requirements of a turbocharged engine's timing and fuel injection are quite different from that of a normally aspirated engine. Thankfully, the Hondata offers control over these parameters and more, so the addition of a turbo system should be gremlin-free.
With the addition of forced-induction and a proper engine control system, Andy's Auto Sport's project Integra will be a force to be reckoned with. Already adorned with Cipher Auto Sport Seats, Tein Coilovers, a DC Sports catback-exhaust system, vintage Enkei wheels and sticky Falken Azenis RT615 tires, the car is no slouch, but adding a CX Racing turbo-kit and intelligent engine management should make it a real monster.
For more information, visit AndysAutoSport.com, AndysAutoSportTV.com, or YouTube.com/AndysAutoSportTV.
Andy's Auto Sport is an online retailer and wholesaler of OEM and aftermarket automotive parts and accessories, and is the largest retailer of aftermarket body kits in the world, with more than 2 million unique online visitors per month. The company serves customers worldwide and has been featured in magazines such as Import Tuner, Modified, Low Rider, Truckin', as well as on television shows such as Pimp My Ride, Street Fury, Trucks!, and Two Guys Garage.