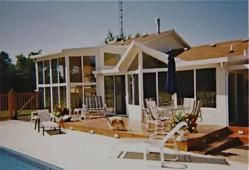 We provide an unprecedented way to shop for an aluminum sunroom addition, patio roof, pergola or screen pool cover.
Miami, FL (PRWEB) May 14, 2013
Home Depot shoppers in Weston now have a chance to see design and material options from Venetian Builders, Inc., Miami, which installs custom-design sunrooms, patio covers and screen enclosures throughout South Florida. Leads generated by the retail display in Weston and 40 other home Depot Stores have helped Venetian more than double its residential sales so far in 2013, Venetian President Chris Noe said.
The care that went into the retail displays Venetian Builders designed to help it market its services through the Home depot in Weston and 40 other stores in the chain reflects the meticulous attention to design and quality that mark its aluminum sunrooms, pool enclosures and patio covers, Venetian President Chris Noe said.
"The Weston sunroom and screen enclosure display is one of 41 we have placed in Home Depots in late 2012 and in early 2013, and the displays obviously have caught the attention of retail shoppers," Noe said.
So far in 2013, Noe explained, residential sales are running 150 percent above levels in 2012, which already was a record year for the Miami company. "We've had to add staff and shift some hours to answering queries from customers," Noe said. "We bank on making the shopping experience comfortable for customers, so it's important that we do that from the start."
The displays give shoppers the chance to see real aluminum framing, windows, doors, insulated panels and screens on a smaller scale. The displays unfold to expose 8 running feet of materials.
When homeowners arrange for a no-cost at-home consultation, either through Home Depot or directly through the builder, they get to see even more choices – life-sized and operating – right at the curb or in their driveway.
"We provide an unprecedented way to shop for an aluminum sunroom addition, patio roof, pergola or screen pool cover," Noe said.
Venetian custom-designs every structure it builds. "In a town like Weston, with lots of shade, homeowners may have options other owners don't," Noe said. "We design every project to fit the home, neighborhood, lifestyle needs and budget of each customer. Buyers never have to settle for a cookie-cutter look."
For example, Noe said, Venetian offers giant skylights that are engineered to be part of an integral roofing system that meets the toughest regulations under the Florida Building Code. "Our aim is not to just meet the Florida Building Code but to surpass it," Noe said. "The company does that with innovations such as heavier-gauge aluminum framing that resembles other framing in appearance only, properly engineered gussets and strong stainless steel fasteners."
Staff members who are experts at dealing with permitting officials and homeowners associations get the job done quickly and efficiently, saving the homeowner time and money, Noe said.
"As a homeowner, you can get into a Venetian aluminum sun room or screen patio enclosure faster and at a lower cost than you could with a structure built by traditional construction methods," Noe said. "And our 4 season rooms can be finished to the level of your home, on the walls and ceilings, on the floor and at the windows, a key design element."
Estimates are always free, written and detailed.
For more information, call 866-596-2427.