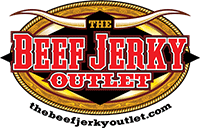 Concord, North Carolina (PRWEB) May 15, 2013
The Beef Jerky Outlet in Concord, North Carolina is gearing up for crowds of NASCAR Fans coming in for the May 2013 races at the Charlotte Motor Speedway. The store is located at I-85 and exit 49 at 7741 Gateway Lane NW, next to Starbucks and Five Guys. This location is less than one mile from the Speedway. The store location naturally attracts fans and crew hungry for the Great American Snack: jerky. The store also offers wild game, flavored popcorns, deep fried peanuts, gourmet popcorns and unique candies.
The Charlotte Speedway May 16-26 venue features two Sprint Cup races over two weekends and is known in the NASCAR community as "The Greatest Ten Days of Racing." The NASCAR race highlights include the Sprint Showdown on May 18 and the Coca Cola 600 the following weekend. NASCAR Sprint Cup races at the Speedway typically draw in excess of 100,000 fans.
The Beef Jerky Outlet Franchise concept creates a welcoming environment to everyone, which has been beautifully showcased in the Concord store. All are invited into the store to sample any of the jerky or popcorn in the barrels. People are also welcome to order online. The store website is carolinajerky.com.
The store has an impressive selection of beef, turkey and wild game jerky. Walking in the Beef Jerky Outlet store, customers will be surprised by the wide selection of flavors. The bulk jerky is set out in authentic covered barrels, which is for sale by the pound. The Beef Jerky Outlet "barrel style" jerky is famous for its authentic flavors and tender textures. The flavors include everything from original to blazing hot and moonshine and honey barbecue.
Contact Section:
Beef Jerky Outlet Concord
7741 Gateway Lane NW
Concord, North Carolina 28027
Phone: (704) 971-7159
http://www.carolinajerky.com