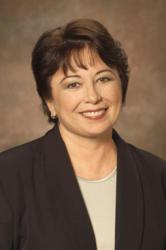 For her sustained contributions toward...adding to the quality of state and university fleet management.
Trevose, PA (PRWEB) May 13, 2013
Kathi Croze, national sales manager for the government fleet market at the CEI Group, Inc., has won the Distinguished Service Award from the National Conference of State Fleet Administrators for "sustained contributions" toward furthering the organization's mission and adding to "the quality of state and university fleet management."
Ms. Croze was presented with the award last month at the NCSFA's annual meeting at the NAFA Fleet Administrator's Institute and Expo in Atlantic City.
In delivering the award, NCSFA corporate peer Matt Wade said Ms. Croze "has worked tirelessly to support the NCSFA." Among her contribution he cited were her service as the group's first corporate liaison, formalizing its corporate committee, creating its corporate newsletter and web page, assisting the group's conference planning, establishing a corporate sponsorship plan and instituting membership drives.
Mr. Wade also cited Ms. Croze's recognition last year by Automotive Fleet, a leading trade publication, as one of the top women in the fleet industry.
"We congratulate Kathi on this recognition of her service to the NSCFA," said Vincent Brigidi, CEI president and chief operating officer organization. "It's a tribute to her dedication to understanding the needs of government fleet managers and how best to address them."
Ms. Croze joined CEI in 1991, after a career in fleet management at Computer Sciences Corporation and Hughes Aircraft. A member of the National Association of Fleet Administrators for the past 35 years, she was named the organization's first female affiliate trustee in 2003, a position she held for two years. Ms. Croze is also s a member of the National Conference of State Fleet Administrators (NCSFA) and a past NFSCA corporate liaison.
About the National Conference of State Fleet Administrators
The NCSFA is the organization that focuses on fleet management for state and university fleets. Members of NCSFA are the primary decision makers representing state fleet offices in the Departments of Administration, Transportation and Universities and other agencies all across the country. These representatives come together for an annual conference and industry trade show and take part in webinars and roundtable discussions throughout the year.
On average, each state purchases about $21 million in fleet and fleet related products annually for a combined annual purchasing power of approximately $1 billion in new vehicle purchases. When states include fuel, parts and commercial services, the annual purchases rise to between $2 and $2.5 billion. Collectively, the combined states own fleet assets in excess of $14 billion and circulate over one million fuel purchasing cards. For more information, please visit http://www.ncsfa.wildapricot.org.
About The CEI Group, Inc.
CEI is a leading provider of technology-enhanced vehicle accident, driver safety and fleet risk management services. Its provider network consists of some 4,000 collision repair shops in North America, and includes nearly 900 truck collision repair centers. Its customers include self-insured, commercial, institutional and government fleets, directly and through alliances with fleet leasing companies. CEI also provides vehicle direct repair program outsourcing to leading property and casualty insurance companies. For more information, please visit http://www.ceinetwork.com.