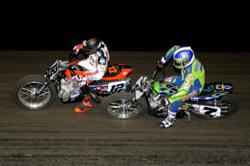 That was awesome! What a race," said a jubilant Halbert. "They did a great job on the track and I'm stoked.
Anamoa, Iowa (PRWEB) May 14, 2013
A Hollywood scriptwriter couldn't have dreamed up the story any better. Saturday night in Stockton, California, Sammy Halbert made a triumphant return to racing by taking victory in the AMA Pro Flat Track presented by J&P Cycles Grand National Championship Main Event on the Half-Mile at the San Joaquin County Fairgrounds.
Halbert, making his comeback from an off-season knee surgery and riding his South East Harley Flat Track Live-backed Harley-Davidson XR750, emerged victorious after a race-long battle with Dodge Brothers Racing's Brad Baker. Lloyd Brothers Motorsports rider Henry Wiles took third with a late-race surge around former champ Jake Johnson. It was a great ride for the Short Track and TT specialist Wiles, since he hadn't raced a Harley-Davidson in years. Johnson and Robert Pearson rounded out the top five.
"That was awesome! What a race," said a jubilant Halbert. "They did a great job on the track and I'm stoked. I had a long layoff from racing there with shoulder surgery and then I came back and tore up my knee. I'm only 12 weeks out of knee surgery and it's still not 100 percent, but I feel 100 percent on the bike that's for sure. I want to say thanks to the California crowd who came out and supported me. It's always fun racing in this state. My team and I really got a good win here and it's definitely something to build off of."
Many figured it would take Halbert a race or two to get back in the swing of things, but the 25-year-old racer from Graham, Wash., proved his rehab from ACL surgery made him as strong as ever. He and Baker traded the lead back and forth several times throughout the 25-lap National at Stockton, but in the end the experience of Halbert made all the difference and he was able to pull away from the 20-year-old Baker, who also hails from the state of Washington.
"Brad came by me, I know he's hungry for a win," Halbert said of the race. "I was like, 'Let's see if I can steal another one from him.' He was right there and I didn't want to be the guy who gave him that first win, so I had to dig deep. I was getting tired and he was starting to pull away and I started thinking about that big Harley contingency and I was like, 'I want that money. Let's go!' I got on the gas and put it on the outside and found a line on the outside there in turn three and four and made it happen. It took me a while to get around Brad. I ran into him a few times, but I finally got by and I didn't see him again."
Baker has opened the 2013 season as a runner up three consecutive times. The young racer is more than eager to score his first victory, which he'll be looking to do at the upcoming series racing on the legendary Springfield (Ill.) Mile on May 26.
"I got off to a great start and old Kevin Atherton (former AMA Grand National winner) told me not to be afraid to try out that top line it looks like there's going to be some tacky dirt coming in," Baker explained of Stockton. "I kind of got a groove going and Sammy and I did a little elbow rubbing and had a lot of fun. Another second-place finish; I guess consistency is the key, so we're going to have to keep that up. I'm so close to a win I can almost taste it. It's definitely something I want to add to my list."
With his podium run at Stockton, Henry Wiles has established himself as a true championship contender for 2013.
"I'm still building a little confidence on this bike," Wiles said of his new ride on the Lloyd Brothers Motorsports Harley. "I came back on Jake (Johnson) and I'm really excited about this season because this is the first time I've had this good of a bike to be able to finish on the podium at these types of tracks."
The Springfield Mile is next up. One rider looking to bounce back there will be defending champ Jared Mees. After a promising start where he won both his heat race and the Dash for Cash, Mees had a hard impact with Wiles early on and nearly crashed. The miscue dropped him back to last place and he never recovered, only circulating the track in an effort to score as many points as possible. He finished 16th, the last rider running.
Brandon Robinson still leads the Grand National standings after finishing sixth in Stockton.
Wyatt Maguire, of Mead, Wash., scored the victory in the J&P Cycles Pro Singles final. Maguire, riding a Kirkland Racing Yamaha YZ450F, moved past early leader Shayna Texter and pulled away to a comfortable 4.616-second victory over Texter. Kyle Johnson had a great surge late in the race to pass Rodney Spencer Jr. to nail down the final podium spot.
"It was definitely tough getting by people, but we ended up changing gearing and it helped a lot," Maguire said. "This is my first main [victory] and I'm happy to do it pretty close to home. I mean 14 hours, that's about as close as it gets for me."
Maguire and Johnson are now tied atop the Pro Singles standings.
The Memorial Day weekend Springfield Mile is one of the iconic races annually on the AMA Grand National racing calendar. Held on the historic Mile of the Illinois State Fairgrounds, the race features a long freight train of riders lined up in the draft and often is not decided until the last lap. Texan Willie McCoy is the defending winner of the May race.
To keep up with the latest series news visit http://www.amaproracing.com/ft/. Ticket information for Springfield can be found at http://www.illinoismda.com/ or call (217) 753-8866.
AMA Pro Grand National Final, Stockton, Calif. Half-Mile – May 11, 2013
1. Sammy Halbert, Harley-Davidson
2. Brad Baker, Harley-Davidson
3. Henry Wiles, Harley-Davidson
4. Jake Johnson, Harley-Davidson
5. Robert Pearson, Harley-Davidson
6. Brandon Robinson, Kawasaki
7. Kenny Coolbeth, Jr., Harley-Davidson
8. Doug Lawrence, Harley-Davidson
9. Jeffrey Carver Jr., Harley-Davidson
10. Michael Martin, Triumph
11. Stevie Bonsey, Harley-Davidson
12. Bryan Smith, Kawasaki
13. Johnny Lewis, Triumph
14. Kayl Kolkman, Harley-Davidson
15. Briar Bauman, Suzuki
16. Jared Mees, Harley-Davidson
17. Shawn Baer, Kawasai
18. Daniel Ingram, Harley-Davidson
J&P Cycles Pro Singles Final
1. Wyatt Maguire, Yamaha YZ 450F
2. Shayna Texter, Honda CRF450R
3. Kyle Johnson, Kawasaki KX450F
4. Rodney Spencer Jr., Honda CRF450R
5. Cole Frederickson, Honda CRF450R
6. Hunter Taylor, Honda CRF450R
7. Bronson Bauman, Honda CRF450R
8. Ryan Kearns, Honda CRF450R
9. Ryan Wells, Honda CRF450R
10. Stephen Vanderkuur, Honda CRF450R
About J&P Cycles:
J&P Cycles is the world's largest retailer of aftermarket parts and accessories for Harley-Davidson and V-Twin Cruiser motorcycles. In business for 34 years, we carry a full line of products from the brands you trust: Kuryakyn, Vance & Hines, Performance Machine, Mustang Seats and many more. J&P Cycles carries tens of thousands of items in stock, in print and online, delivers the best customer service and return policy in the industry. For more information, visit http://www.jpcycles.com and start building your dream today!