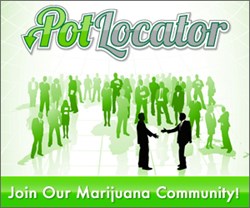 "By solidifying a Bellingham safe-access point to medicine, we are ensuring Washington medical marijuana patients that they will always have options to choose from. Our company wants nothing but the best for patients who deserve the best." -John Nicolazzo
(PRWEB) May 14, 2013
Today denotes a very important portrayal of PotLocator's mission to provide patients across the eighteen legal medical marijuana states with a reputable and discreet safe-access point to medicine. Primarily recognized as a main subsidiary of The Medical Cannabis Network, PotLocator.com has announced the addition of a brand new medical marijuana dispensary to their roster of distinguished canna-businesses. The Healthy Living Center in Bellingham, Washington, will provide PotLocator.com with an exceptional level of patient visibility and will service Washington medical marijuana patients.
Located in the ever-so-scenic city of Bellingham, Washington, this city is appropriately nestled between the monstrous mountains of the Pacific Northwest and the boundless waves of the Pacific Ocean. The city is known to be the center of one of the most unique and sure-fire picturesque cities in the United States, and offers one of the most rich varieties of recreational, cultural, economic and educational amenities. Bellingham also contains an exceptional number of entertainment options, festivals and events, richly historic districts and an endless supply of public transportation. Not only are the residents of Bellingham completely passionate about a fulfilling community life, but they are also actively involved in forming strategic investments in parks, trails and naturally preserved territories.
The Healthy Living Center is a medical marijuana co-op that provides Washington medical marijuana patients with a safe-access point to obtain medicine. As a patient-centered cooperative, this location provides top-shelf medicine to patients who are looking to stray from synthetic pharmaceutical health-care. By providing a natural alternative, the overall goal of the Healthy Living Center is to give patients access to first-class medicine, all while acting as a guardian of understanding and compassion. The Healthy Living Center has long tried to maintain the valued standards of being able to feature extensive patient support services to the entire Washington medical marijuana community. This location makes a wide variety of high-quality organic medicine readily available to approved patients. Please note, this location also boasts a staff that is capable of providing patients with any necessary information regarding the benefits of medical marijuana, and may help patients differentiate which strain is best to alleviate a respective condition. Featured medical marijuana strains from this cooperative include notorious variations such as L.A. Confidential, Romulan, Sour Kush, Green Crush and Grapefruit.
The Healthy Living Center has begun to set in stone a very honorable reputation among the medical marijuana community in Washington State. As a certified leader in alternative medicine and a bona fide cooperative where patients can feel comfortable in a secure facility, The Healthy Living center has strengthened its appeal towards patients surrounding the Bellingham region, spreading as far as across the entire state. While this location pays homage to Bellingham, that does not mean that the comprehensive patient support services provided by this location are only limited to that geographic area. Please note that this location extends its services to the surrounding towns and cities of Parkview, Birchwood, Roosevelt, Lakeway, Forest Ridge, Fairhaven, Silver Beach and Edgemoor.
With a clear visual ahead of the widespread client base that PotLocator has recently obtained, it is evident that the company does not plan on slowing down any marketing and advertising efforts anytime soon. Patients have always come first with PotLocator, and with the recent addition of this canna-business in Bellingham, Washington, it is easily believed that they never stray from any goals of providing patients with a safe-access point to medicine. All businesses that are compiled into the PotLocator network have been cleared through in-depth background checks and are of the highest possible standing.