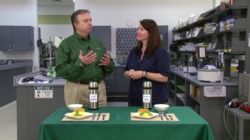 While many people want to reduce the amount of fat in their diets, few are willing to sacrifice the full mouth appeal of fat.
White Marsh, MD (PRWEB) May 14, 2013
In this latest episode of the popular internet series "Does This Have Gum In It?", host Harold Nicoll talks with Gum Guru® Maureen Akins about the benefits of using gums to replace or reduce fat content in two different cheese sauce without sacrificing key texture attributes. Both were demonstrated earlier this year at the Restaurant Chefs Association.
Better For You Foods
Consumers want to eat foods that are better for them, but prefer not to give up the satisfaction that comes with full fat in these and other similar foods. Fat content contributes to, "mouth coating" in both cheese sauces. Substituting any significant percentage of fat with water alone would make them seem "thin" and "watery," clearing the palate quickly yielding a less satisfying experience. Combining the water with gum systems preserves the texture that would be otherwise lost.
Ticaloid® Ultrasmooth and Ticaloid Saucier were used to make the two different cheese sauces. Ticaloid Saucier was specifically designed to stabilize and enhance a variety of sauce-type applications. Ticaloid Saucier provides excellent emulsification, thickening, and suspension characteristics while also adding cling. Ticaloid Ultrasmooth economically provides suspension and thickening to sauces of all types.
Gums and gum systems allow for the uniform management of moisture in food. With the successful use of these hydrocolloids, fewer expensive ingredients were needed to achieve the same flavor, taste and overall eating experience. The true importance of texture is frequently overlooked in the early stages of food product development. While everyone experiences food and beverages uniquely, agreement on how to designate texture and the mechanics of food and beverages remains relatively new. A lexicon of terms that describe the desired textures in food from first observation through swallowing was used to design the texture of these recipes.
Better Language Leads to Better Outcomes
The Texture Lexicon™ from TIC Gums allows food developers to give voice to the previously indescribable qualities of consumption not directly associated with flavor, but impactful nonetheless. It is a systematic approach to achieving target texture that works well out in front of consumer sensory evaluations...and one that uses language precise enough to be relevant in a product development.The lexicon is extensive and addresses important texture issues through the whole sensory experience with a food product, from the first look through swallowing.
About TIC Gums
TIC Gums is a global leader in advanced texture and stabilization solutions for the food industry. Food and beverage companies rely on TIC Gums to improve the texture, stability, consistency, nutritional profile, and shelf appeal of their products. Legendary customer service, high quality standards, and the unrivaled knowledge of our Gum Gurus® have made TIC Gums the industry leader for more than 100 years.