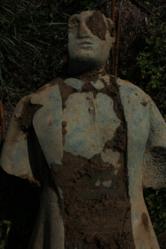 (PRWEB) May 13, 2013
Archeologist's Collection opening May 17 at the Udarnik in Moscow transforms the new contemporary art museum into an excavation site. The gaping pit of history will be installed on the museum floor with real earth and life-size statues. The installation offers an arts memoria, a formal remembrance of the past that was once cherished by some and loathed by others. These ruins of the age lay deep in the earth of the house on the embankment, across from red square, ever tightening in the bosom of the motherland.
The house on the embankment was commissioned by Stalin housed elite party members beginning in the 1930s. After passing important legislation that allowed executions to be performed on the site of arrests without trails, these elite party members suffered mass executions carried out by Stalin during the purges of the late 1930s. This site has now been transformed into a great museum of contemporary art, The Udarnik. The Udarnik will open to the city with a remembrance of the Soviet spell by Grisha Bruskin called, Archeologist's Collection, a historical achievement for both the institution and the community.
The museum installation is a recreation of an actual excavation which took place in Italy uniting the first, second, and third Romes under one earth, the second being the Byzantine empire, and the third being the USSR in the view of the artist inspired by these histories. This remembrance for Bruskin is not just about history but also about universal human nature, struggle, and harmony.
The cosmos in general is the environment he seeks most, the end destination for all the histories of the earth, geographies of astrophysics, and spirits of religious realms. The artist uses these to construct an environment of intense reflection for the viewer. The single events of one building at one time become only fragments across the immeasurable space and time of energy, yet these buried and resurrected forms carry on ongoing pulse of immeasurable teaching to consider.
The museum will be open Tuesdays through Sundays from 11 a.m. to 8 p.m., and closed on Mondays. Supporting the installation will be unseen footage of the excavation in Italy from Archival Magazine's documentary film about the life and work of Grisha Bruskin. The regular ticket price is 200 rubbles, and the concessionary ticket price is 100 rubbles. The Udarnik is located on Serafimovich St., 2. For more information, please email info(at)archivalmagazine(dot)com.
Archival Magazine is a high-definition video streaming publication that produces entertainment content for film, television, the web, and mobile devices. Using powerful cinematic approaches to storytelling, Archival Magazine presents visual and performing arts, literature, architecture, archeology, history, political science, economics, anthropology, travel, and health from past ages to current and coming ages. The stories featured by Archival Magazine demonstrate the gravity of art and age.