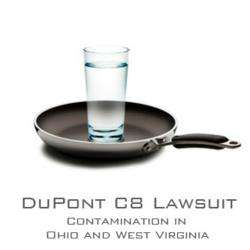 For a free consultation concerning the DuPont C8 class action lawsuit or other questions contact Wright & Schulte 1-800-399-0795 or visit www.yourlegalhelp.com
Columbus, OH (PRWEB) May 17, 2013
Wright & Schulte LLC reports on four Dupont C8 lawsuits filed the same week in Athens County Common Pleas Court in Ohio against chemical manufacturing giant E. I. DuPont De Neumours & Co (DuPont), have been moved to Ohio federal court and are being consolidated into DuPont C8 Lawsuit MDL 2433 (In Re: E.I. Du Pont De Nemours and Company C-8 Personal Injury Llitigation, MDL No. 2433.) The plaintiffs in each C8 Exposure lawsuit allege DuPont contaminated drinking water with the toxic chemical C8. According to the original Athens News report, the plaintiffs in the individual lawsuits are Betty Bragg, John Wright, Jack Offenberger, and Kit McPeek-Stalnaker. [athensnews.com/ohio/article-38598-athens-
county-residents-file-c8-related-lawsuits.html Dec 2012]
The DuPont C8 class-action lawsuit included as plaintiffs anyone living in six named water districts affected by DuPont's C8 from the Washington Works plant, including the Little Hocking Water Association, which serves part of Washington County as well as Troy and Rome townships in Athens County. The others listed are the Lubeck Public Service District in West Virginia; the city of Belpre in Washington County; the Mason County Public Service District in West Virginia; Tuppers Plains in eastern Meigs County, Ohio; and the village of Pomeroy in Meigs County. (In Re: E.I. Du Pont De Nemours and Company C-8 Personal Injury Llitigation, MDL No. 2433.)
[athensnews.com/ohio/article-38598-athens-county-
residents-file-c8-related-lawsuits.html Dec 2012]
[wvrecord.com/news/s-3960-federal-court/259198-
mdl-created-for-contamination-claims-over-duponts-
wood-co-plant April 2013]
The U.S. Judicial Panel on Multidistrict Litigation (JPML) ordered all federally filed C8 personal injury lawsuits against DuPont be transferred to the U.S. District Court, Southern District of Ohio for pretrial proceedings on April 8, 2013. At that time, there were 26 DuPont C8 personal injury and wrongful death lawsuits filed in the Mid-Ohio Valley against DuPont alleging the plaintiffs had been exposed to C8 because DuPont had contaminated drinking water supplies. (In Re: E.I. Du Pont De Nemours and Company C-8 Personal Injury Llitigation, MDL No. 2433.)
Wright & Schulte LLC is offering free DuPont C8 lawsuit evaluations to any individual or family who lived near the DuPont Washington Works Plant by Parkersburg, WV for at least one year prior to December 24, 2004 and who suffers from one of or more of the following conditions:
Thyroid Disease
Kidney Cancer
Testicular Cancer
High cholesterol
Inflammatory bowel disease
Preeclampsia (high blood pressure during pregnancy)
For more information on filing a DuPont C8 lawsuit, or to arrange for a free legal consultation, please visit yourlegalhelp.com.
The four DuPont C8 exposure lawsuits allege that DuPont "negligently, recklessly, knowingly, carelessly, wrongfully and/or intentionally allowed, caused, and/or otherwise permitted and is continuing to allow, cause, and otherwise permit releases of materials from the Washington Works Plant into those waters that are and have been used for human drinking water purposes."
According to updated news released by the Athens News, the four plaintiffs say they each suffer from thyroid disease with one of the plaintiffs also suffering from ulcerative colitis, with both illnesses having been linked by the C8 science panel to C8 exposure. The C8 science panel was created as part of the terms of a settlement of a previous class action lawsuit against DuPont for C8 contamination. The panel released its final findings in October of last year which connected C8 exposure to the six health conditions.
DuPont filed responses to the DuPont C8 lawsuits claiming that any damages included in the plaintiffs DuPont C8 lawsuits "if any, were proximately caused by acts of God and/or by intervening and superseding actions by others, over which DuPont had no control." The company further claimed that the damages "were not reasonably foreseeable by DuPont at the time of the conduct alleged"; and that "DuPont neither knew, nor should have known, that any of the substances to which plaintiff was allegedly exposed were hazardous or constituted a reasonable or foreseeable risk of physical harm by virtue of the prevailing state of the medical, scientific and/or industrial knowledge available to DuPont…"[athensnews.com/ohio/article-38726-c8-suits-moved-to-federal-court.html Jan 2013]
About Wright & Schulte LLC And Filing A Dupont C8 Lawsuit Or Dupont C8 Class Action Lawsuit
Wright & Schulte LLC, an experienced personal injury firm, is dedicated to the belief that America's legal system should work for the people. Every day, the attorneys of Wright Schulte LLC stand up for the rights of people who have been injured or wronged, and fight tirelessly to ensure that even the world's most powerful corporations take responsibility for their actions. If you're looking for a law firm that will guarantee the aggressive and personal representation you deserve, please do not hesitate to contact Wright & Schulte LLC today. FREE DuPont C8 lawsuit case evaluations are available through yourlegalhelp.com, or call 1-888-399-0795