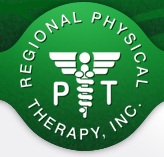 Our specialized staff evaluates the patient, their injury and pain, and then crafts an individual program to meet the patient's physical goals.
Midwest City, OK (PRWEB) May 14, 2013
A torn ACL (ligament in the knee) has become known as the "pop that plagues female soccer players." Known for the loud snapping sound associated with its rupture, the injury affects female soccer players 2-8 times more than men and women in any other sport(1). Regional Physical Therapy, located in Midwest City, Oklahoma, recently provided pre and post-op therapy for a young soccer player, Shelby, who had suffered a torn ACL. Prior to surgery, Regional PT's pre-rehab program effectively restored Shelby's strength and full range of motion, allowing her to recover quickly after the reconstruction.
Regional PT currently has one of the only instruments in the city that is capable of measuring strength after an injury such as Shelby's. Regional PT released Shelby to full play after giving her an Isokinetic Evaluation, which measures her strength, as well as her quadriceps-to-hamstring ratio. In essence, the evaluation compared the function of Shelby's injured leg to her uninjured leg to ensure that the full capability of her muscles had returned.
After playing competitive soccer for 10 years, Shelby was concerned about being able to return to the field—she knew that ACL injuries were difficult and lengthy to recover from, and was eager to start her therapy program.
Shelby's Case Study:
Problem: 16-year-old patient, Shelby, suffered from a torn ACL sustained during soccer practice. The injury caused severe pain, decreased range of motion and acute swelling. To limit her recovery time, Shelby needed pre-rehabilitation to increase her strength and mobility prior to her ACL reconstruction surgery.
Treatment Plan: Shelby was initially seen for pre-rehab. Her therapy plan included both manual and passive techniques that would prepare her leg muscles for surgery and post-op rehab. Regional PT therapists effectively returned Shelby's full range of motion and improved her strength with a program including mobilization of the kneecap and quad, and stretching exercises.
Following surgery, Shelby returned to Regional PT for post-op therapy. Regional PT staff implemented a hands-on approach, and applied pressure to muscle tissue and joints to encourage movement and flexibility. Because Shelby had gone to pre-rehab prior to surgery, her muscles were prepared and allowed her to complete post-op treatment at a fast pace.
Results: Shelby was able to return to play six months after surgery with no restrictions. Shelby's pain has subsided, and she quickly returned to her previous level of play.
Following the end of her therapy, Shelby commented, "Regional [PT] was a great help before and after my surgery. I'm glad I can get back on the soccer field without any pain."
Along with pre and post-op rehabilitation, Regional PT offers services which include manual and aquatic therapy, on-site physical therapy, and massage services. Regional PT therapists have over 50 years of combined experience, and offer individualized treatment plans that bring results.
"Our therapy programs are designed to target the specific area of the body where the muscles and tissues are unhealthy," commented Vicki Buchanan, owner of Regional PT. "Our specialized staff evaluates the patient, their injury and pain, and then crafts an individual program to meet the patient's physical goals."
For more information, visit http://www.regionalpt.com.
About Regional Physical Therapy, Inc.
Based in Midwest City, Oklahoma, Regional Physical Therapy, with over 50 years of combined experience, treats patients with tailored, comprehensive treatment plans which are designed to fit individual needs. Regional Physical Therapy was founded in 1993 by owner Vicki Buchanan, who attended the University of Oklahoma Health Sciences Center and graduated with a degree in Physical Therapy. Dedicated to the late co-founder Bruce Hawkins, the Bruce Hawkins Scholarship award was established by Regional Physical Therapy, Inc., in 2009 to give back to the profession that Bruce was dedicated to advancing. The Bruce Hawkins Scholarship has been awarded to Oklahoma University students who show outstanding leadership characteristics and embody the spirit of dedication to the profession of physical therapy. Regional Physical Therapy uses the team approach to help patients regain lost function, with the purpose of providing high-quality physical therapy services to the community. For more information, visit http://www.regionalpt.com.
1.Umeki, Alex. "Women's Soccer: The 'Pop' That Plagues Female Soccer Players." BleacherReport.com. Bleacher Report, 10 Apr. 2012. Web. 01 May 2013. bleacherreport.com/articles/1096690-womens-soccer-that-pop-sound-that-plagues-female-soccer-players.