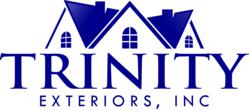 Trinity Exteriors Inc. is excited to become a member of the UASRC and we strongly believe in the mission and ethics the UASRC promotes
Round Rock, TX (PRWEB) May 15, 2013
The United Association of Storm Restoration Contractors (UASRC) is pleased to announce a new member to the organization, Trinity Exteriors Inc.
Trinity Exteriors, Inc. is an exterior restoration contractor specializing in roofing, siding, windows and gutters. With locations in Minnesota, Wisconsin, Nebraska and Iowa, they are proud to have developed a large following of satisfied customers who rely on us to help them, their families and friends with all their exterior renovation needs. They attribute their success and growth over the years to three guiding principles; service, quality, and integrity. "Trinity Exteriors Inc. is excited to become a member of the UASRC and we strongly believe in the mission and ethics the UASRC promotes. As an industry, we were in need of an organization like the UASRC that can bring like-minded companies together and help educate consumers on what to look for in a quality contractor, " said Ted Swanson, President, Trinity Exteriors Inc.
The UASRC was formed as a non-profit organization with the goal of inspiring positive change in the storm restoration industry. The mission of the UASRC is to promote the highest ethical standards in the restoration industry. Our Members adhere to a code of professional conduct, educate property owners about the insurance claims process, and give back to the community through outreach and charitable programs.
With over 150 years of combined experience in the roofing and restoration industry, our members look to make a positive impact on the industry by providing the best in-class service to homeowners affected by storms. The UASRC will also work closely with legislators, insurance companies, and both local and national media to improve the practices and image of the storm restoration industry.
After storms hit an area, homeowners are often approached by transient roofing companies to assist with insurance claims and repairing the damage. UASRC members will be instantly recognizable with their credentials and UASRC identification badges. As a best practice, you should look for the following to identify a legitimate roofer:

Clearly represents their products and services, including adequate disclosures of all material terms in writing
Provides proper information on their insurance coverage
Openly identifies the nature, location and ownership of the business and clearly discloses all policies, guarantees and procedures relevant to the customer
Abides by all written agreements and verbal representations
Does not offer or agree to cover the insurance deductible
The UASRC was formed in part to give property owners the information they need to make an informed decision in regards to their storm related repairs. The UASRC Facebook page also has a lot of great information on the storm restoration industry. The UASRC also serves as a resource for property owners and contractors that have fallen victim to disreputable contractors, and insurance claim related issues.