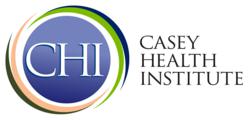 Our goal is to continuously improve patient access and reduce the cost of care while fulfilling our charter to treat both those in the community who can afford care and those who cannot.
Gaithersburg, Md. (PRWEB) May 15, 2013
Casey Health Institute, a new state-of-the-art integrative primary care center, has opened in the Washington, D.C. suburb of Gaithersburg, Md. It offers a new model of healthcare, one that believes health and wellness are achieved through collaboration and a team-based approach that penetrates all levels of the organization in order to treat the whole person, prevent illness, and address the runaway costs devastating our current health system.
Co-founded by husband and wife team David Fogel, MD and Ilana Bar-Levav, MD, the Casey Health Institute addresses a broken system that has both patients and doctors feeling frustrated and resigned. Casey Health's mission is to create a new model of integrative health care that transforms the patient/provider relationship in the context of a community based health center. Economic sustainability is a key factor and includes, as part of its mission, community outreach and education as well as providing healthcare for the locally underserved.
"Our goal is to continuously improve patient access and reduce the cost of care while fulfilling our charter to treat both those in the community who can afford care and those who cannot," said Dr. Fogel. "In the U.S., healthcare accounts for almost 18 percent of the country's gross domestic product, the highest among the world's industrialized nations. Even with this spending, health outcomes in the U.S. are alarmingly below almost all the other developed countries. Patients and doctors are increasingly dissatisfied with their experience, and that is why we have created a new economic model, as well as a new model for practicing medicine."
Casey Health Institute is a public non-profit that is pioneering the implementation of the principles of "Conscious Business" into health care. Conscious businesses place emphasis on an organization's higher purpose, prioritizing stakeholder integration and creating a culture whereby its core values become central to the success and profitability of the business. Co-founders Bar-Levav and Fogel, participating together in yearly summits with CEOs from other "conscious" businesses like Whole Foods, Trader Joe's, and The Container Store, have prioritized weaving conscious business principles into the fabric of health care.
This new model focuses on prevention, treating the whole person, and using less invasive and less expensive treatments whenever possible. It recognizes that the patient/practitioner relationship is one of the key instruments for maximizing lifestyle changes that result in a greater sense of well-being. The model is interwoven with a forward thinking, collaborative, highly organized healthcare delivery system called the Patient Centered Medical Home(PCMH). Efficiency and high quality results are achieved through high tech methods of communication, optimizing the use of electronic health records and emphasizing a smoothly run clinical and administrative team to work with the patient. The PCMH is a mainstay in a broader coordinated network called the Medical Neighborhood.
To that goal, the organization has opened The Wellness Center at Casey Health Institute, staffed by professionals skilled in such complementary treatments such as acupuncture, chiropractic, yoga therapy, massage therapy, and naturopathy in a serene physical environment adding depth to the healing environment. Open to the public, The Wellness Center at Casey Health Institute offers comprehensive programs in exercise, nutrition, healthy lifestyle behavioral classes, health coaching, and stress reduction to individuals, groups, and corporations.
"Our emphasis is on getting people healthy and keeping them that way," said Dr. Fogel. "Our physicians, nurse practitioners, naturopaths, acupuncturists, chiropractors, nutritionists, therapeutic yoga practitioners, psychotherapists, massage therapists, and mind-body medicine practitioners walk side by side with our patients on every step of their journey toward optimal health."
About Casey Health Institute
Funded through a grant from The Eugene B. Casey Foundation, the Casey Health Institute is a new integrative primary care center located in Gaithersburg, Maryland. Offering an enlightened approach that centers on the unique health needs of every person, Casey Health Institute's team of integrative practitioners partner with patients and their families to devise care plans that fit individual needs given each person's particular life circumstances, then helps them monitor progress. Casey Health Institute believes that integrative primary care, preventive medicine and wellness programs, healthy lifestyle, nutrition counseling, patient navigation and wellness coaching in the context of a team based Patient Centered Medical Home are the wave of the future for healthcare.
For more information, visit http://www.caseyhealth.org.