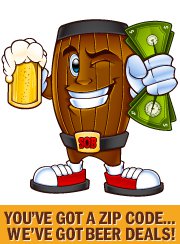 The average customer will save $4 to $6 per case on their favorite brands.
Houston, TX (PRWEB) May 23, 2013
Memorial Day weekend is second only to Labor Day weekend when it comes to beer sales, according to the most recent Nielsen data. Americans will buy 57.8 million cases of beer Memorial Day weekend. Memorial Day plans usually involve camping, traveling, hosting parties, boating, and barbequing, with beer as the drink of choice.
SaveOnBrew.com has been America's only reliable source of beer price information since 2010. This month, they rolled out a new mobile app that will help on-the-go travelers, campers and barbeque aficionados can comparison-shop for local beer prices. Website visitors and mobile app users simply enter a zip code to access 150,000 to 250,000 beer prices from more than 50,000 retailers nationwide. SaveOnBrew has been described as the "GasBuddy of Beer Retailers" or "like Google – for beer."
"When you're buying in mass quantities for a party, it's imperative that you shop the sales," says SaveOnBrew founder Mark Davidson. "The average customer will save $4 to $6 per case on their favorite brands, but the savings can add up to $20 or more per party. That's a whole sheet pizza of savings!"
In addition to listing accurate local beer prices, the SaveOnBrew site and mobile apps also provides driving directions to the nearest beer retailers, lets users shop for new brands by type or review, and provides access to exclusive features at The Beer Blog. "We're kind of famous for our holiday lists," Davidson admits. "If it's the day before Mother's Day or a big party and you don't know what kind of beer to buy, rest assured our Beer Blog has got you covered."
For more information, consumers can enter a zip code at SaveOnBrew.com for savings on beer. The mobile app is available at the iTunes store and Google Play marketplace.
About SaveOnBrew.Com: Founded in 2010 to help thirsty beer drinkers across the United States find the lowest advertised prices for one of the world's most popular beverages.