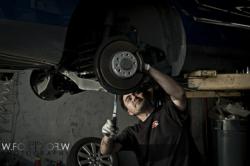 Scottsdale, AZ (PRWEB) May 13, 2013
Facebook, Twitter and LinkedIn are no longer just for personal use. Many of today's consumers visit a company's social media pages before making a purchasing decision.
This includes customers looking to schedule automotive services.
"As more consumers take to social networking sites like Facebook and Twitter to share their opinions about your dealership with their friends, they're also letting their friends' friends and neighbors' neighbors know, too – magnifying the impact of how your dealership is perceived, positively or negatively," said Trey Hiers, The Reynolds & Reynolds Company, in Fixed Ops Magazine.
According to Sprout Social, out of 53 percent of consumers who said they use Twitter to recommend companies or products, 48 percent bought that product or service.
These facts confirm the importance of a social media presence at your auto repair business.
Here are four ways to best use your social media pages to generate sales:
1. Promote discounts.
One of the main reasons people follow a business' social media pages is for coupons. According to Get Satisfaction and Column Five Media, 43.5 percent followed a business' Twitter feed for special offers and discounts.
Take advantage of this mindset by consistently offering specials on your Facebook, Twitter and LinkedIn pages.
2. Build relationships.
Responding to posted questions help develop a relationship between your auto repair business and customers. And good relationships often turn into sales.
"Until now, we've seen social media being mainly used to enhance the relationship between the brand and the consumer," said Jacqueline Anderson, J.D. Power's director of social media. "What we're starting to see now is that younger consumers are more likely to use social media for service questions than for brand information."
3. Market your referral program.
Customer referrals continue to be a great way to generate new sales. And social media makes it even easier to promote the program in front of current customers.
4. Offer online scheduling.
Today's customers prefer the convenience of booking their service appointments online instead of over the phone. Add a 'Book Now' button for instant sales from your social media pages.
Learn how Appointment-Plus automotive scheduling software can boost your fixed operations sales. Visit http://www.appointment-plus.com. Call 800-988-0061.
About Appointment-Plus: Appointment-Plus is the leading provider of online scheduling software for automotive repair businesses. It offers customer self-scheduling, reminder notifications that reduce the no-show rate by 70 percent, and multiple appointments per time slot functionality.