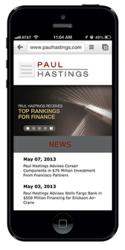 Los Angeles, CA (PRWEB) May 14, 2013
Digital solutions provider Xivic Inc. just completed its strategic design on the new Paul Hastings website. The newly built site was created to fit the growing, global needs of one of the most trusted law firms in the world and continue to separate the firm from its competitors.
To ensure its site conveyed, "global leader" like the quality of its services, Paul Hastings approached Xivic to revamp its website. In today's age, having a mobile friendly site is no longer a luxury, but a necessity.
A Google study discovered that mobile-friendly sites increase the likelihood that a visitor will engage in a company's services by 67%. A site that is not optimized for mobile results in 61% of visitors more likely not to use the company's services and quickly leave the site. So it was imperative for an industry leader like Paul Hastings to make the switch to a mobile optimized site.
The Xivic team set out to develop the new digital design strategy for Paul Hastings and solve two problems law firms encounter. The first was to make Paul Hastings' site mobile optimized; the second was to distinguish the firm from competitors through its strategic visual design.
Xivic's expert team designed a sleek look that reaffirmed Paul Hastings' exceptionally high brand reputation to be clearly evident when visitors landed on the site. More importantly, the new site was built to be an adaptive site. This allows for the site to adapt to any mobile device, making all the content mobile friendly.
Law firms are in constant competition for clients. A firm's website sets the tone of the firm to prospective clients and ultimately increases lead generation capabilities. Despite having the impeccable reputation, legacy, and client roster that Paul Hastings boasts, it was clear they needed a better digital strategy to continue to separate them from the pack. Xivic's digital solution for Paul Hastings assures the firm that it will remain a globally trusted brand, every time someone visits its website.
About Xivic, Inc
Xivic is a cutting edge digital solutions provider focused on delivering maximum business impact for agencies, brands and start-ups. We combine technological innovation with unique managerial expertise to translate, expand and develop our clients' vision into a powerful creative experience, reaching their consumers to its fullest potential.
Brand's we work with include NBC Universal, Toyota, Disney, ABC Studios, Sony, Mattel, EA Games, Microsoft Bing, Universal Pictures, General Electric, Hasbro, Mitsubishi, TNT, Xbox and many others. Since 1998, Xivic has successfully launched hundreds of cross-platform solutions, ranging from mobile applications to social platforms, content management systems to shopping portals and Microsites to enterprise-wide solutions.
Our team of digital strategists, information architects, UX designers and engineers are the most dependable, reliable, and forward-thinking experts in the digital space. If you need a partner that can translate your vision into reality call on Xivic. We'll make it happen.